Most warning letters are issued by the FDA for one of two reasons. Either the company's response to a preceding form 483 was deemed inadequate, or the observations made during the inspection were serious enough to warrant a supporting warning letter.
For the company on the receiving end of a warning letter, determining the proper corrective actions to take typically starts by dissecting the details of the issues cited. Depending on the contents of a particular warning letter, this analysis can be challenging.
To help you orient your review, we've highlighted five questions that can help you understand which corrective actions you will need to take.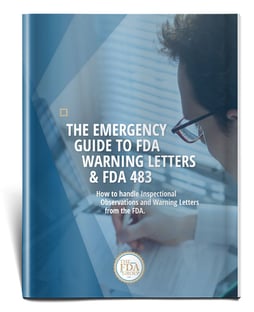 FREE WHITE PAPER
The Emergency Guide to FDA Warning Letters & FDA 483
We've helped hundreds of pharmaceutical, diagnostic and medical device companies of all sizes resolve serious regulatory compliance problems. This guide captures key details intended to help you solve these issues, too.
1. What is the Scope of the Warning Letter?
In other words, how many deficiencies did regulators identify?
Numerous deficiencies suggest a wide range of problems within the company and/or its quality system and should be handled accordingly. These situations usually take a significant amount of time to resolve, which will require considerable planning and preparation.
Grab our free white paper, The Complete Guide to Compliance Remediation Projects, to learn how third-party experts play a vital role in helping companies plan and conduct large-scale remediation efficiently.
2. Were Investigations Into Quality Issues Found After Distribution Deemed Inadequate?
While serious corrective actions such as a recall are expensive and resource-intensive, regulators may imply such actions are necessary if not clearly stated in the warning letter by calling attention to inadequate investigations into issues after distribution.
Carefully consider what actions are necessary to fully resolve these problems.
3. Were Deficiencies Previously Identified Found to be Inadequately Corrected?
This kind of citation signals inadequacies in corrective and preventive actions (CAPA), CAPA effectiveness evaluations, and/or root cause analyses.
Read Also: 3 Key Elements of a Successful CAPA System
4. Are There Any Additional Issues the Company Must Address in its Response?
This type of citation commonly appears in warning letters identifying deficiencies in data integrity. These should be given particularly high priority to ensure all costs and resource needs for adequate remediation are accounted for as early as possible.
Free white paper: Ensuring Enterprise-Wide Data Integrity in FDA-Regulated Industries
5. Will Re-inspection be Necessary to Confirm Corrective Actions are Appropriate and Effective?
Re-inspection recommendations often indicate that the effects or risks posed by deficiencies threaten product and/or patient safety.

Additionally, these recommendations may indicate that regulators are not confident that the company can implement effective CAPAs without more oversight. This should be a serious concern.
Warning Letter Consolidation and Remediation
Along with the content-related items described above, it's important to note that the FDA may consolidate inspection results from multiple sites into a single warning letter.
With this in mind, companies should be aware that deficiencies may be present at other sites that were not inspected and should consider extending remediation activities to all potentially affected areas.
Get Expert Quality, Compliance, and Warning Letter Response and Remediation Assistance Now
A warning letter or FDA 483 does not signal the end of your product, your job, or your company. There are clear procedures to follow to overcome this hurdle.
We've helped pharmaceutical, diagnostic and medical device companies of all sizes resolve serious regulatory compliance problems—and we can help yours, too.
While this resource is a great place to start, real help means working with expert professionals who have been through this before and know precisely how to best address the situation—or better yet, help you prepare for your next FDA inspection.
Are you in need of expert assistance with responding to a Form FDA 483, warning letter or preventative action? Contact us today.

Read on: A 5-Step Guide to FDA Warning Letter Recovery