Corporate citizenship is a central tenet of our company culture.
In addition to supporting charitable organizations in their mission to bring about social good, we strive to set the same example for those we work with by encouraging employees at The FDA Group to participate in socially-conscious causes and endeavors that enrich the lives of others.
We support those who wish to set aside time to promote social good with full compensation for the time spent taking advantage of volunteer opportunities of their choice.
As citizens of both local and global corporate communities, we are committed to promoting social awareness and responsibility through a variety of meaningful contributions, making The FDA Group a fulfilling place to work in the process.
Supporting charities in search of a common goal.
At The FDA Group, our purpose to enhance the quality of people's lives. In support of this purpose, we make meaningful contributions to the charitable organizations who share in this common goal of promoting health and wellbeing all over the world. We see giving back as a direct extension of our purpose as an organization. We recognize the important work charities are doing to improve healthcare and build a brighter future for people everywhere.
Learn more about the organizations we support below.


Ironman Foundation
| | |
| --- | --- |
| | The Ironman Foundation creates postive, tangible change by engaging athletes and volunteers to participate in programs that demonstrate service through sport and commitment to community. |
---
Bike MS (National MS Society)
| | |
| --- | --- |
| | Bike MS is the fundraising cycling series of the National MS Society and raises more money than any other cycling event for any other cause. To date, Bike MS cyclists, volunteers, and donors have raised more than $1 billion so people affected by MS can live their best lives as we stop MS in its tracks, restore what's been lost, and end MS forever. |
---
ALS One
| | |
| --- | --- |
| | ALS ONE identifies the strongest therapeutic opportunities in ALS research and partners with expert leaders to expedite progress with the goal of finding a treatment within four years, through the sharing of ideas and division of responsibility to advance research projects across the nation. |
---
Pan-Mass Challenge (Dana-Farber Cancer Institute)
| | |
| --- | --- |
| | The Pan-Mass Challenge raises money for life-saving cancer research and treatment at the Dana-Farber Cancer Institute through an annual bike-a-thon that crosses the Commonwealth of Massachusetts. Since its founding in 1980, the PMC has successfully melded support from committed cyclists, volunteers, corporate sponsors and individual contributors. |
---
PKD Foundation
| | |
| --- | --- |
| | The PKD Foundation is dedicated to finding treatments and a cure for polycystic kidney disease (PKD) and to improve the lives of those it affects. They do this by promoting research, education, advocacy, support, and awareness on a national level, along with providing direct services to local communities across the country. |
---
Multiple Myeloma Research Foundation
| | |
| --- | --- |
| | The Multiple Myeloma Research Foundation (MMRF) helps accelerate the development of next generation multiple myeloma treatments to extend patients' lives and lead to a cure. MMRF brings treatment to multiple myeloma patients faster by collaborating with best in class partners in both the U.S. and abroad. In the process, they are changing the way cancer research is conducted. |
---
Special Olympics
| | |
| --- | --- |
| | The Special Olympics provides year-round sports training and athletic competition in a variety of Olympic-type sports for children and adults with intellectual disabilities. This gives them continuing opportunities to develop physical fitness, demonstrate courage, experience joy and participate in a sharing of gifts, skills and friendship with their families, other Special Olympics athletes and the community. |
---
Employee Spotlight
Brie Stoianoff, The FDA Group's Director of Quality and Service Assurance, and her husband, Kevin Byrne, are gearing up for 2017's Bike MS with the Oregon Chapter of the National Multiple Sclerosis (MS) Society. This will be Brie's 14th year, and Kevin's 15th, riding in support of the NMSS.
Kevin was diagnosed with MS while deployed overseas, serving as an air cavalry commander with the U.S. Army. Together, and with their 7-year-old daughter, Eleanor, their focus is a constant effort to endure the debilitating effects of this disease, fundraise for efforts to find a cure, and support all those living with MS.
Watch Brie & Kevin discuss their ongoing mission to promote MS research on Portland Today's 8's Heroes:
To support their fight, please go here:
http://main.nationalmssociety.org/goto/EMBK
Read more and follow Kevin & Brie's mission to fight MS:
http://neverstopneverquit.blogspot.com
http://facebook.com/NeverStopNeverQuit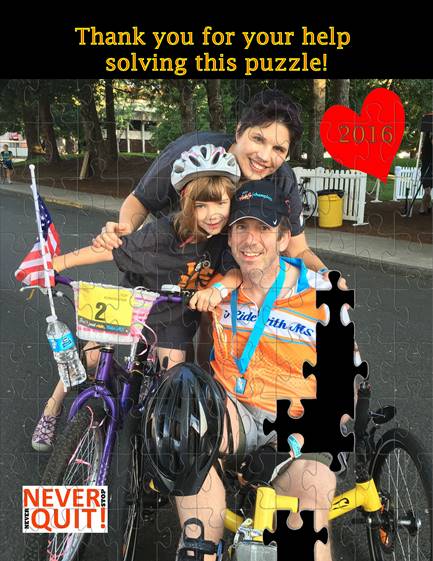 The fight is not over and it won't be over until a cure is found.
It will never stop…nor will we
It will never quit…nor will we
This is why we fight!
Never Stop… Never Quit…®