Get our free white paper: The Complete Guide to Remediation Projects
How to Remedy the Root Causes of Compliance Issues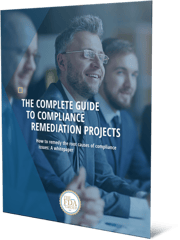 As regulations tighten throughout all FDA-regulated industries, compliance issues pose a major threat to manufacturers.
When problems arise, it's absolutely crucial to take action with a remediation project designed to identify and resolve the root causes of the problems at hand.
Our guide to remediation lays the groundwork for an effective remediation program that does just that. We've gathered insights from experienced quality professionals on how to plan and execute the kind of remediation initiatives regulators expect to see.
You'll learn:
How to contexualize the observations you've received
How to look beyond the symptoms to identify root causes
How to take genuine corrective actions
How to overcome the most common challenges to remediation
The benefits of partnering with remediation experts