Get our free white paper

: The Emergency Guide to FDA Warning Letters & FDA 483

How to handle Inspectional Observations and Warning Letters from the FDA.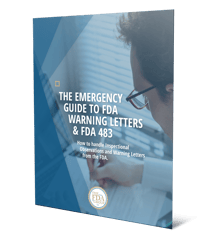 Receiving an FDA Warning Letter or Form 483 requires companies take immediate action to resolve issues and communicate those fixes to regulators within 15 business days.
Failing to respond or submitting an inadequate response can lead to severe enforcement actions that may threaten your ability to produce and market products.
This guide lays out the key steps to take after receiving an FDA Warning Letter or FDA 483.
You'll learn:
Key elements of Corrective and Preventative Action Plans (CAPA)
Tips from experts on crafting an effective response
How third party experts can help fill the gaps and assist you through the process
You'll also get a simple Warning Letter or FDA 483 response checklist to ensure completeness before submission.