Whether you're embarking on a computer system validation (CSV) or system remediation project, you'll likely need to navigate a quagmire of organizational, team, and human dynamics to come out successful at the other end.
Taken together, these projects demand a lot of all of those involved. What's more, they're typically initiated at the most strenuous times, such as:
In the wake of an audit (external or internal), involving FDA 21 CFR Part 11, GMP issues, or similar problems cited from other regulatory bodies;
After working through arduous analysis, design, and build for a new regulated software system and moving to the system qualification stage, or
Following a merger, acquisition, or other significant change event to your quality system.
Often, teams are faced with many different obstacles at once. These can can include a lack of team member availability, limited technical knowledge, an overwhelming amount of documentation required for qualification, creating and managing an effective project management framework, prioritizing tasks, and defining the scope and complexity of each phase of the project — just to name a few.
More often than not, teams simply don't have the time or the resources needed to overcome all of these challenges ahead of time, and are forced to divert course on the fly, throwing immense effort toward challenges as they arise throughout the project.
This approach rarely ends in outcomes as successful as they could have been if done another way. It can also introduce potential tool, team, and process liabilities that may go undetected until larger problems arise.
Quality stakeholders must make every effort to devote resources in such a way that evenly applies effort and takes every variable into consideration in order to build a strong foundation for the future.
To help you meet compliance requirements while staying in line with budget goals, we've highlighted six important components that should be a part of any CSV validation or qualification framework.
1. Effective Team Organization
Ideally, CSV projects should be planned and conducted by experienced, capable professionals from the following roles:
A Quality Representative: This individual should be able to protect product integrity and safety throughout the process.
An IT Representative: This person must be able to understand the complex technological aspects of the project and articulate them so others (particularly the Quality Representative) can understand.
A Business Representative: This person should be able to contextualize all planned actions from a business and regulatory point of view.
A Program or Project Manager: As with most group projects, different stakeholders bring different goals. This person must understand each representative's needs in aggregate and translate them into actions that satisfy everyone's objectives.
2. A Planned Project Structure
Creating a "knowledge base" for documents that offer guidance on standards and logistics relieves the pressure to make quick judgements that can lead to stress and uncertainty. This knowledge base can take many shapes, but the following questions can prove useful in making sure your team's knowledge is structured and accessible to all:
Have you developed an unambiguous CSV/SDLC methodology that avoids overlap and conflicts?
Do high- and low-level guidance documents "work" with one another in a practical sense?
Have you developed an infrastructure for storing documents and tracking revisions?
Can team members draw from and contribute to a shared collection of outcomes, standards, and compliance decisions?
3. Thorough Operational Direction and Understanding
Over-relying on impromptu decision-making is typically a sign of operational weakness. Effective direction and understanding should operate from explicit rather than implicit knowledge. We've summarized both of these below.
Implicit knowledge: This is on-the-spot expertise and guidance, such as a senior quality member answering questions as they arise.
Explicit knowledge: Foreseeing potential challenges and decisions ahead of time and knowing how to navigate them effectively.
During a CSV project, implicit knowledge should be converted to explicit knowledge whenever possible. This is best done through thorough, ongoing documentation from senior staff members.
4. A Culture of Quality and Commitment
Project Managers should work to build and grow CSV capability as a process and general competency. Quality should be achieved, not just represented by producing artifacts that represent it. CSV requires skill and expertise to do well. Be ready to invest the time and focus needed, especially during the earlier stages of the project.
Read Also: Using Quality Risk Management (QRM) to Cultivate a Culture of Quality
5. Prioritization
Avoid spending to bulk of your effort on risks that fall lower on the priority list. In addition, evaluate for timely decision-making, reuse of information, documented standards, and rapid escalations when questions or issues arise.
6. Performance Measures
With the project in motion, performance measures can assist in improving the framework once it's in place. Inefficient processes, delayed decisions, poor role assignments, and extended document review are the usual suspects when problems occur. Be sure to define and capture your performance measures to convey performance after completion.
Need expert CSV assistance? Our data integrity, validation, and quality experts perform comprehensive computer systems and data assessments to ensure your system requirements are fully met and adequately documented. Click here to learn more and get in touch with a CSV expert today.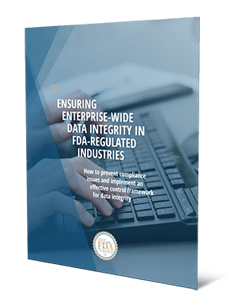 Want to learn more about conducting effective CSV? Grab our
free white paper
,
Ensuring Enterprise-Wide Data Integrity in FDA-Regulated Industries
, a 24-page guide filled with solutions to common compliance problems and a step-by-step process for integrating an effective control framework for data integrity.