On November 9, 2018, then FDA Commissioner Scott Gottlieb announced the agency's launch of the first in a series of new inspection protocols set to roll out over the next two years.
The New Inspection Protocol Project (or "NIPP") presents a new way of assessing, recording, and reporting the data from surveillance and pre-approval inspections for sterile drug products.
Beginning with new protocols for aseptic processing drug inspections specifically, the official rollout of the NIPP is an effort to eventually make inspections of sterile manufacturing sites more consistent while also enabling the agency to better catch problems that could lead to a drug shortage.
"[T]here's increasing need to more efficiently collect and analyze the information we gather during inspections to give us even better and timelier insight on the state of quality in drug manufacturing facilities and promote the relevance of this information to our regulatory decisions," Dr. Gottlieb said in his press release.
Following multiple pilots of the NIPP protocols which began in 2014, Dr. Gottlieb indicated that some significant changes had been made to the protocols based on their findings. "Each new protocol version underwent extensive revision and refinement. Much of this work was based directly on feedback received from our investigators, compliance officers, and reviewers who participated in the pilots."
Although statements from CDER's Office of Pharmaceutical Quality have indicated that the protocols would likely never be officially released, the agency has shed light on some aspects of them during industry presentations.
We've gathered what publicly available information exists and summarized the key details manufacturers should be aware of and what steps can be taken to prepare accordingly.
What is the

New Inspection Protocol Project (NIPP)

?
The NIPP was established to develop standardized electronic inspection protocols for three main tasks:
Collecting data gathered during inspections in a structured manner
Reducing the variability in inspectional findings among investigators
Facilitating more efficient analysis of findings

More broadly, its goal is to expand an investigator's focus beyond identifying specific current good manufacturing practice (CGMP) violations to evaluate the overall state of a facility's quality systems and operations.
In his press release, Dr. Gottlieb offered an expanded overall summary:
"[The] New Inspection Protocol Project (NIPP) uses standardized electronic inspection protocols to collect data in a structured manner for more consistent oversight of facilities and faster and more efficient analysis of our findings. The protocols also include additional questions related to quality culture observed in facilities. The new tool is being applied to our inspectional work related to sterile injectable drugs, which have been the subject of sterility problems and shortages in the past. The primary focus of this new tool is to ensure a more streamlined and consistent coverage and reporting of our inspectional activities."

A Summary of Known Details Regarding NIPP Protocols
Although the specific protocols are not publicly available, we've gathered summaries of statements FDA officials have made known about the protocols below.
Use of pre-loaded tablets
Investigators will use tablets containing the protocols for rating facilities during domestic and international inspections.
Algorithmic identification of high-risk sites
An algorithm will be used to identify higher-risk sites by analyzing historical data as well as risk factors related to specific facilities and products.
Read Also: A Guide to FDA's 'Risk-Based' Site Selection Model for CGMP Surveillance Inspections
29 elements across six systems for surveillance inspections
The protocols for surveillance inspections include 29 elements across the six systems that FDA inspections can cover. Investigators would score facilities on each of the 29 elements based on six performance levels.
24 elements for pre-approval inspections
For pre-approval inspections, FDA investigators would score establishments on 24 elements in areas such as facility, equipment, personnel, processes, analytical, management of suppliers and contractors, data integrity, quality culture, process development program maturity, and lifecycle risk management.
Three failure levels, one acceptable, and two for exceeding basic compliance
Failure levels would be given "critical," "major," and "minor" designations. One level would be deemed acceptable and two would designate that a site exceeds basic compliance. High-performing facilities may be rewarded with lighter surveillance inspection schedules.
This publicly available presentation deck from a March 4, 2015, Quality Forum presentation offers additional details presented during the NIPP's pilot phase (which, according to the agency's press release has since undergone significant "revision and refinement").
Next Steps for Manufacturers
In preparing for what agency officials have characterized as a "sea change" for the industry, manufacturers should keep the NIPP's stated purpose close in mind: Shifting the focus on a constant state of quality, rather than basic compliance with current good manufacturing practices (CGMPs).
As FDA continues to implement standardized protocols that will undoubtedly involve greater data collection for analysis and reporting, it will only become more critical for pharmaceutical manufacturers to assess their current quality and compliance systems and make the necessary enhancements to ensure a "constant state of quality" is being maintained, documented, and supported throughout their organization.
In practical terms, this means making use of trending data and sophisticated quality metrics as well as conducting routine comprehensive quality and compliance pre-inspection assessments led by experienced third parties.
Additionally, these changes underscore the importance of understanding and adopting risk-based methods that are designed specifically to enable manufacturers to take the system-wide approach to quality risk management regulators will expect to see.
Read Also: Using Quality Risk Management to Cultivate a Culture of Quality
The Q9 Quality Risk Management guidance outlines principles and examples of tools for risk management that can be applied to all aspects of pharmaceutical quality, including development, manufacturing, distribution, inspection, and submission/review processes throughout the lifecycle of drug substances, drug products, biological, and biotechnological products.
Contact us today to learn how our large staff of quality and compliance experts can help you assess your current state of compliance and strengthen your quality system to prepare for the changing regulatory landscape.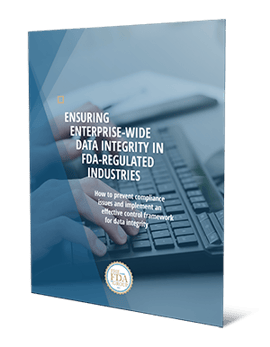 Grab our
free white paper
,
Ensuring Enterprise-Wide Data Integrity in FDA-Regulated Industries
, a 24-page guide offering a step-by-step process for integrating the effective control framework regulators expect.