As the pressures of modern manufacturing lead to increasingly complex supply chains, drug and device manufacturers increasingly rely on their suppliers, making them vulnerable to potentially devastating quality issues.
On top of this, many manufacturers continue to operate under the false assumption that by handing over duties to suppliers, so too go the responsibilities for maintaining regulatory compliance. This is not the case.
Although it's in suppliers' interests to keep themselves to a high standard of quality to attract clients, the regulatory burden ultimately rests on the company receiving their products or service.
Monitoring and managing quality is extremely important when outsourcing anything that could potentially impact the product.


---

Grab our free white paper packed with practical advice for qualifying suppliers and managing quality.
The Complete Guide to FDA-Regulated Supplier Qualification & Quality Management
---

To eliminate confusion around the expectations placed on manufacturers, we've summarized the key regulations governing supplier management for drug and device companies below.
Medical Devices (21 CFR Part 820)
All medical device companies marketing products in the United States must have a Quality Management System that satisfies the requirements of Part 820. Specific to suppliers, this regulation establishes Purchasing Controls (Section 820.50), which require manufacturers to develop and maintain procedures that ensure all purchased or otherwise received products and services adhere to a specific set of requirements.
• Evaluation of suppliers, contractors, and consultants. Each manufacturer shall establish and maintain the requirements, including quality requirements, that must be met by suppliers, contractors, and consultants. Each manufacturer shall:
1. Evaluate and select potential suppliers, contractors, and consultants on the basis of their ability to meet specified requirements, including quality requirements. The evaluation shall be documented.
2. Define the type and extent of control to be exercised over the product, services, suppliers, contractors, and consultants, based on the evaluation results.
3. Establish and maintain records of acceptable suppliers, contractors, and consultants.
Purchasing data. Each manufacturer shall establish and maintain data that clearly describe or reference the specified requirements, including quality requirements, for purchased or otherwise received product and services. Purchasing documents shall include, where possible, an agreement that the suppliers, contractors, and consultants agree to notify the manufacturer of changes in the product or service so that manufacturers may determine whether the changes may affect the quality of a finished device. Purchasing data shall be approved in accordance with § 820.40.
The use of the term "establish" is particularly important to interpret properly. According to FDA in 21 CFR Part 820.3, "establishing" means to define, document, and implement. In the context of Purchasing Controls, thorough documentation (written or electronic) is absolutely essential.
Pharmaceuticals (Q10 Pharmaceutical Quality System Guidance)
This guidance extends quality systems responsibilities for drug makers to the activities they outsource. One particularly important clause states that contract givers "should be responsible for assessing the suitability and competence of the contract acceptor to carry out the work required."
It also establishes that all responsibilities for quality-related activities between the two parties "should be specified in a written agreement."
Beyond this, drug manufacturers must ensure that any product introduced into interstate commerce is neither adulterated nor misbranded due to the actions of a contracted facility, but rather due to the labeled drug manufacturer. This point is particularly crucial for "virtual" companies that rely entirely on outsourced manufacturing.
All companies, virtual or otherwise, are ultimately responsible for the products they place into interstate commerce. A risk-based approach to supplier quality management is recommended to ensure this expectation can be met. This should include, at minimum, the following actions:
Conduct a comprehensive risk assessment to determine the appropriate controls for the supplier based on the products or services they provide and their criticality to your product.
Perform a supplier audit to assess the company's ability to deliver products and/or services, perform independent testing of any components or products, and review any previous compliance issues such as FDA 483s, warning letters, or consent decrees.
Monitor, document, and review supplier performance on a regular basis. Address and resolve any issues that arise.
Establish appropriate written quality agreements regarding responsibilities for cGMP activities. Create a table or chart detailing the responsibilities for each organization.
Grab our free white paper and learn practical tips for strengthening your quality system and protecting your organization from serious supplier-related quality issues.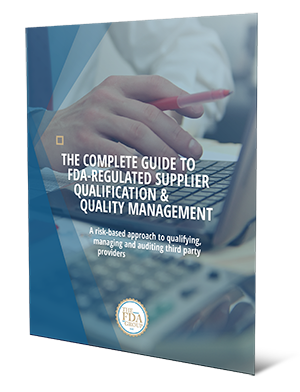 The Complete Guide to FDA-Regulated Supplier Qualification & Quality Management