The increasing complexity of clinical trials and the emergence of new technologies for gathering clinical data have heightened the need to enhance and sustain data integrity throughout all phases of clinical studies.
In recent years, the number of current good manufacturing practice (CGMP) violations related to data integrity has risen significantly. Approximately 80 percent of all warning letters cited data integrity in 2016 versus just 25 percent in 2013.
This stark difference points to a serious problem: More and more drug developers are maintaining quality systems that are not adequately ensuring the safety and accuracy of electronic data and records.
How Are Data Integrity Problems Being Addressed?
The FDA took a big step in addressing this worrying trend through a draft guidance issued in July of 2016. This guidance identified key problems, connecting them to regulatory requirements commonly cited in warning letters. It also clarified certain data integrity-related concepts that had proven particularly difficult to grasp, including metadata, audit trails, static versus dynamic records, backups, and computerized systems.
[Free White Paper:] Ensuring Enterprise-Wide Data Integrity in FDA-Regulated Industries
Since then, the clinical research industry has made significant improvements in overcoming these challenges by shifting to risk-based approaches to governing their data and electronic records and addressing data integrity within their quality management systems.
Four of these common approaches are summarized below.


1. Better Handling of Raw Data
Chain of custody is an essential component of data integrity.
Both primary and secondary data holders as well as controllers must provide adequate safeguards and means of traceability for all key study data in support of both clinical trials and drug manufacturing.
In this case, raw data should be considered primary data. The chain of custody for ensuring accuracy must always begin at the place that data is first created while maintaining a full history until it has expired and retired.


2. Enhanced Access Security
Clinical researchers are also making improvements by including both physical and logical access security measures. Given the constant and evolving threats to data, it's important to implement physical security measures at all levels, including data centers, mobile devices, laptops, and desktops.
Similarly, access controls are being strengthened in both hardware and software systems as well as databases and mobile devices used to capture and store clinical trial data.


3. Better Data Control
Clinical researchers are bolstering control over their data by implementing systemic controls over who has access to data and how its accessed while clearly defining these controls in procedures.
Control components like active directories, dynamic audit trails, and continuous encryption of data are helping firms protect electronic information and records across their programs.


4. More Effective, Far-Reaching Audit Trails
FDA 21 CFR Part 11 and its audit trail requirements offer the FDA's expectations as to what an audit trail should contain.
[Read Also:] Audit Trail Requirements in Electronic GxP Systems: A Quick Guide
Today's challenge is maintaining audit trails for data in increasingly disparate areas such as cloud systems. Clinical research organizations are steadily overcoming this hurdle by designing and implementing dynamic audit trail functions to account for the entire data chain of custody.
Innovative systems now enable more efficient and reliable collection of audit trail information across a clinical program.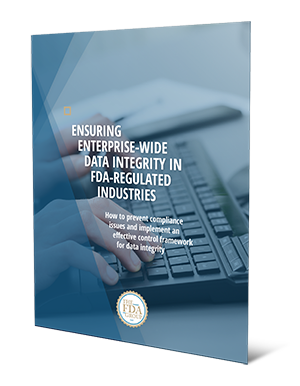 Grab our free white paper and learn more about maintaining accurate and reliable data in an increasingly complex regulatory environment.
Ensuring Enterprise-Wide Data Integrity in FDA-Regulated Industries: A Free White Paper