Preparing a central office or "war room" prior to an FDA inspection is key to making the process run as smoothly as possible.
This meeting point should serve as the "front room" to the area you've designated for the inspector to work. It should have everything you expect an inspector would want to see, organized for fast access during the meeting.
Being prepared for your inspector not only makes for a smoother inspection but also impresses a sense of readiness and cooperation, which can play to your favor when all is said and done.
Read Also: What Happens During an FDA Inspection?
In addition to having the right members of your team in attendance, it's also important to stock your war room with the records and documents the inspector expects to have access to during their inspection.
To help you put the basics in place before they show up, here are five key items to have at-the-ready at all times.
Dealing with quality system gaps you need to close before inspectors arrive? Grab our free guide to learn how to transform a quality assessment into a practical project plan to close gaps and document them to prepare for inspection.
1. An Organizational Chart
Just about every inspector will want to see an overview of your organization and who is doing what within it.
Make sure your chart is up-to-date and lists the current staff members who are responsible for the functions it describes.
2. A Facility Layout
Your inspector will likely want to evaluate the workflow of your site and compare it to the organizational chart you've provided.
Again, if it's been awhile since your last inspection, don't simply blow the dust off your old charts and hand them the same one they saw years ago. Take the time to review and make any updates or revisions necessary ahead of time.
3. Your Quality System Manual
This is your master plan, something the inspector will no doubt want to review in detail. In addition to having your system manual ready-to-go, make sure all key personnel are fully prepared to speak to your quality systems and be able to answer questions the inspector may have.
4. Site Standard Operating Procedures
All records and documentation related to compliance and quality systems should be made available to inspectors at any point throughout their visit.
Read Also: The 4 Steps of an Effective Mock FDA Inspection
This includes Corrective and Preventative Action plans (CAPA), internal audits, record and change controls, and any documents that illustrate or describe process flows.
5. Staff Training Documentation
All too often companies focus squarely on their processes, procedures and quality systems while ignoring the importance of staff competence.
Make sure your war room is stocked with all relevant applicable training documentation including protocol instruction, and any other training resources your inspector might find useful.
Dive Deeper or Get Expert Assistance Now
Grab our free white paper to learn how to transform a quality assessment into a practical project plan to close gaps and document them to prepare for inspection. Inside, you'll find a strategy for planning the resources necessary for quality system remediation and tips for implementing your plan efficiently from start to finish.
Need help assessing your quality system or closing gaps? Contact us to learn more about fulfilling specific quality and compliance staffing needs.
The FDA Group's large network of quality and compliance resources have extensive knowledge and experience in relevant regulations, guidance, and best practices related to quality system management throughout the regulated life science industries.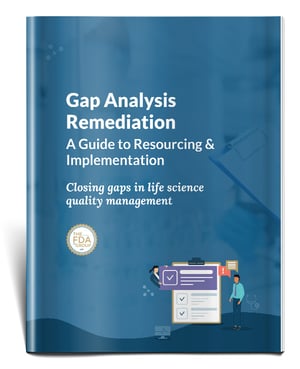 Gap Analysis Remediation: A Guide to Resourcing & Implementation