Since first calling attention to the recent increase in inspection and enforcement activity involving over-the-counter (OTC) drug and health product manufacturers in our April 10 post, multiple additional warning letters and an import alert have only further underscored the need for establishing and maintaining a robust quality system consistent with CGMP regulations.
Read on for a summary of the most recent quality and compliance issues cited by regulators at OTC manufacturing facilities.
Download our free guide below for an in-depth look at the QMS issues underlying nearly all of these repeat observations.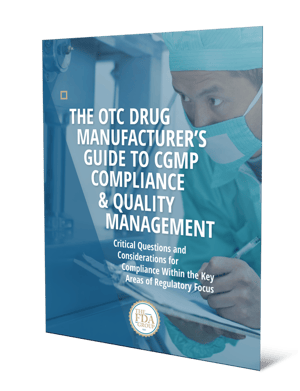 The OTC Drug Manufacturer's Guide to CGMP Compliance & Quality Management
Grab the free guide.


Four CGMP Violations Prompt Import Alert
An FDA inspection at an OTC drug manufacturing facility in Canada revealed CGMP violations similar to prior citations the firm received in 2012 and 2014. In March, the firm was issued an import alert.
The recent warning letter cites four violations of CGMP regulations for finished pharmaceuticals:
In its warning letter, FDA directly requests a comprehensive remediation plan:
"In response to this letter, provide your comprehensive plan for establishing, supporting, and sustaining a robust quality system consistent with CGMP regulations. Include timelines in your plan."
Read the full FDA warning letter →


Five manufacturers of a product labeled as homeopathic receive warning letters for "significant violations" of CGMP regulations
On May 14, 2019, an FDA News Release indicated that the agency had issued warning letters to five firms producing products labeled as homeopathic for "significant violations" of CGMP regulations.
Four of the warning letters were sent to firms who jointly produced a product that posed a significant safety risk to consumers as their purportedly sterile products were not shown to be genuinely sterile. The other warning letter described a firm's failure to "have systems in place to assure proper design, monitoring, and control of manufacturing processes."
The FDA's statement went on to say that four of the the warning letters "describe failures to conform to CGMP requirements due to improper methods, facilities or controls for manufacturing, processing and packing."
In the other warning letter, regulators cited human drug CGMP and misbranding violations in addition to unapproved new animal drug violations.
"Some of the company's products labeled as homeopathic are indicated for treating conditions in infants and children, and they are manufactured from ingredients such as nux vomica, belladonna, aconitum napellus, and gelsemium sempervirents that pose potentially toxic effects. For example, nux vomica contains strychnine, which is a highly toxic, well-studied poison that is used to kill rodents. Producing such a product without proper manufacturing controls may lead to super-potent drugs, which could be a potential poisoning risk for consumers."
"CGMP Consultant Recommended"
As with prior warning letters to similar firms we've highlighted in our recent post, the FDA "strongly recommends" many of these firms engage a consultant qualified as set forth in 21 CFR 211.34 to assist in meeting CGMP requirements.
Read our prior post to learn why third-party experts are critical for appropriate quality system auditing and remediation that meets FDA expectations.

Get Expert CGMP Auditing & Remediation Assistance Now
Ensuring compliance with CGMPs is a challenge we help pharmaceutical firms of all kinds overcome through comprehensive auditing and remediation projects led by experienced quality and compliance experts backed by a Total Quality Guarantee.

Contact us today to learn how we can help you understand your quality and compliance needs, audit and remediate your current systems, and protect your reputation for producing safe, high-quality products.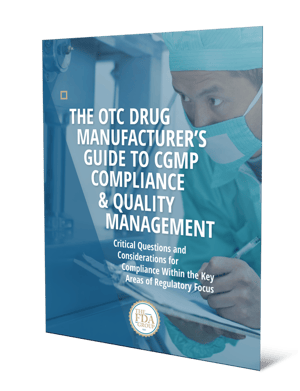 The OTC Drug Manufacturer's Guide to CGMP Compliance & Quality Management
Grab the free guide.