Get our free guide

: The OTC Drug Manufacturer's Guide to CGMP Compliance & Quality Management

Critical Questions and Considerations for Compliance Within the Key Areas of Regulatory Focus
---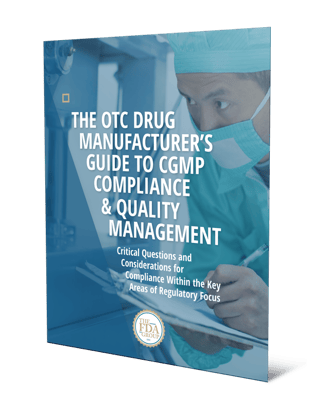 The U.S. FDA and other regulating bodies are increasingly inspecting and citing manufacturers of nonprescription drug and health products for current Good Manufacturing Practice (CGMP) violations.
Many of these deficiencies underscore widespread underlying inadequacies in implementing and maintaining a robust Quality Management System (QMS).
This guide offers manufacturers of OTC and similar health products actionable summaries and expert analyses of common CGMP compliance and QMS problems along with key questions for assessing compliance accordingly.
What you'll find inside:
A summary of five key issues the FDA has repeatedly uncovered at OTC drug and health product manufacturing facilities
Relevant excerpts from recent FDA warning letters offering specific compliance and quality details
Snippets of expert analysis into identifying and remediating CGMP and QMS problems
Recommended next steps for manufacturers of OTC and similar health products
And much more
Get the white paper sent right to your inbox ⤴