Get our free white paper

: The Complete Guide to FDA-Regulated Supplier Qualification & Quality Management

A Risk-Based Approach to Qualifying, Managing and Auditing Third Party Providers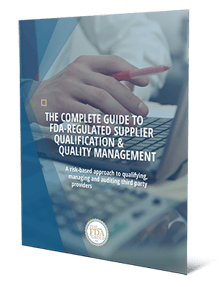 To the FDA, suppliers and other third party vendors are an extension of your organization, making regulatory compliance your responsibility.
Outsourcing has become a global phenomenon among FDA-regulated manufacturers, making it absolutely critical to qualify new suppliers and manage quality on a routine basis.
Grab our free white paper and learn how to build better relationships with qualified suppliers and establish a risk-based approach to supplier quality management.
What's inside:
A summary of key regulatory requirements for supplier management

A step-by-step guide to qualifying suppliers, vendors & other contractors

The formula for crafting an effective quality agreement

The blueprint for adopting a risk-based approach supplier quality management
Tips for working with third party professionals when planning and running supplier audits
Fill out the form on the right to read the white paper.