Updated: March 10, 2021:
This guide serves as an ongoing report of the most recent FDA inspection and enforcement trends based on publicly available data. We've included a mix of our firsthand research along with others' analyses and links to the appropriate sources.
We've kept trending reports from previous years as changes from year to year tend to be subtle. Past figures still provide extremely valuable insight teams can use to assess their own state of compliance and take action if improvements are necessary.
Need expert help planning and executing compliance projects or connecting with the industry's top quality and compliance professionals? Get in touch with us and learn more about how we help 17 of the top 25 pharma, medical device, and biotech companies execute their projects on time and on budget.
---
Contents — Use the links below to jump to a specific section.
---
Top 4-Year (2016-2020) Cumulative Trending cGMP FDA Inspectional Observations — Drug and Device
Drug
Device
Need expert compliance help assessing and/or remediating your quality system to determine and ensure full compliance—especially with more FDA inspection and enforcement activity likely on the horizon?
Learn more about our flexible staff augmentation (full-time contract or contract-to-hire), FTE recruitment, and managed project support services, including GxP auditing and remediation support.
We also offer a number of free white papers related to solving quality and compliance problems in some of these trending areas:
FDA Pharmaceutical Inspectional Observation Trends in Fiscal Year 2020
The following is a summary of Barbara Unger's fantastic FDA inspection trend research for FY2020 published in Pharmaceutical Online. Read Barbara's column for in-depth analysis into the sources, methodology, and presentation of the data as well as greater depth into the insights themselves.
Perhaps the most important caveat to this data is its incompleteness. As Unger points out, publicly available FDA data include "only Form 483s issued through its electronic system; it does not include Form 483s issued to API manufacturers because §211 is not applied to those manufacturers or Form 483s that are issued outside of the electronic system."
Given these limitations, the four most commonly cited regulations for fiscal year 2020 include:
21 CFR 211.192 -

128 citations

- Investigations of discrepancies
21 CFR 211.22(d) - 111 citations - Procedures applicable to the quality control unit shall be in writing and shall be followed
21 CFR 211.160(b) -

84 citations

- Lab controls should include scientifically sound specifications
21 CFR 211.100(a) -

59 citations

- Production and process controls shall be supported by written procedures
From June 26th, 2020:
Major Takeaways from The State of Pharmaceutical Quality: Fiscal Year 2019
In its "Report on the State of Pharmaceutical Quality: Fiscal Year 2019" the FDA's Office of Pharmaceutical Quality (OPQ) provides insights into the agency's quality oversight of drugs and biologics for the domestic market.
Here are the major takeaways for inspections and compliance, specifically:
FDA investigators performed about 7% fewer drug quality surveillance inspections in FY2019 than they did in FY2018.
The agency reviewed 109 drug quality inspections carried out by EU authorities under its good manufacturing practice (GMP) inspection mutual recognition agreement (MRA).
58% of inspections were conducted in facilities located outside the US.
Based on its 10-point inspection score, the overall average for inspections in FY2019 was 7.4. (US- and EU-based sites scored averages that were slightly higher: 7.7 and 7.6, respectively.)
Based on its 10-point inspection score, homeopathic products and sterile over-the-counter (OTC) products had lowest average scores at 6.5 and 6.2, respectively. For more on recent chronic quality and compliance issues among OTC and health product manufacturers, read our deep-dive.
Three categories of inspection findings accounted for more than half of all observations:

Records and Reports — CFR 21 Subpart J (23.9%)
Laboratory Controls — CFR 21 Subpart I (19.3%)
Equipment — CFR 21 Subpart D (14.8%)

The most commonly cited CFR subparts were:

21 CFR 211.192, production record review (8%)
21 CFR 211.22, responsibilities of the quality unit (8%)
21 CFR 211.160, general requirements/scientifically sound laboratory controls (5%).

In its report, regulators went on to say, "These sections represent some of the key elements of an effective Pharmaceutical Quality System. These are potential areas of focus for manufacturing facility management to improve overall pharmaceutical quality and inspectional outcomes." Read our other post for a deep-dive into 21 CFR 211.22, specifically.
From December 20th, 2019:
2019 FDA Inspection and Enforcement Trends
A report published by the ECA Academy looks back over the last fiscal year (October 2018 to September 2019) to review the FDA warning letter trends among pharmaceutical manufacturers.
Here, we've summarized this report's findings, as well those detailed in another comprehensive research report published to Pharmaceutical Online, which examined drug inspection observational trends by analyzing publicly available data from fda.gov.
Where applicable, we've provided links to relevant resources and next steps for those looking for guidance and assistance in mitigating trending risks in the new year and beyond.
1. Fiscal year 2019 saw the most warning letters issued to makers of finished medicinal products in recent history.
The last 12 months saw a total of 81 warning letters issued to finished product manufacturers worldwide, the most since the fiscal year 2015.
As ECA points out, this is in contrast to the number of warning letters sent to API manufacturers, which has fallen since peaking in 2017.
2. The majority of pharmaceutical warning letters were issued to US companies.
Over half (46 to be exact) of the 81 warning letters were issued to companies located in the United States. A detailed list of each region is below:
United States: 46
India: 12
China: 10
South Korea: 5
Singapore: 2
Costa Rica: 1
France: 1
Canada: 1
Spain: 1
Taiwan: 1
Turkey: 1
3. The most frequently-cited GMP violations in warning letters concern basic requirements.
The specific issues contained within these recent warning letters reveals a continuation of a trend that's been running for years: lapses in meeting basic GMP requirements.
The responsibilities of the quality control unit laid out in 21 CFR 211.22 was the top most-cited issue, followed by written procedures; deviations laid out in 21 CFR 211.100.
Here's a more detailed breakdown of the top six pharmaceutical citations in the fiscal year 2019:
Dive Deeper: Pharmaceutical Quality Assurance: FDA's Quality Unit Expectations
4. The number of inspection observations for drugmakers has increased.
As analyzed and compiled by Barbara Unger in an impressively researched column for Pharmaceutical Online, the frequency of Forms 483 issued to pharmaceutical companies has continued its steady rise over the past few years.
In the fiscal year 2019, there were a total of 779 Forms 483 issued for drug inspections compared to 716 in 2018, 694 in 2017, and 691 in 2016.


Source: FDA FY2019 Drug Inspection Observations And Trends, Barbara Unger, Pharmaceutical Online

Note that for this and the following sections covering inspection observation trends, the data presented adheres to the analysis methodology and limitations described in the introduction of the column referenced.
5. Six §211 citations increased dramatically between fiscal years 2018 and 2019.
Also noted in the column, "six regulations saw a significant increase in the frequency with which they were cited between 2018 and 2019. This includes:
6. §211.22(d) was the most frequently cited compliance deficiency throughout fiscal year 2019.
Again, given the caveat of the limited public data available (the FDA's data includes only Forms 483 issued through its electronic system and omits API manufacturers), some notable findings emerge regarding specific §211 citations.
The most frequent deficiency pertained to §211.22(d) Procedures applicable to the quality unit shall be in writing and shall be followed, which moved from the second most frequent citation to the first from the previous year.
The following list offers the top four most frequent citations throughout the last fiscal year.
The chart labeled "Table 1" in the column referenced offers a visualized breakdown of trending citations over the years. Access the full article here or open the chart (.png image file) in a separate window here.
7. OTC drugmakers were subject to greater scrutiny from regulators. Many issues point to basic GMP deficiencies.
As we explored in an article this past April, 2019 saw the FDA put a greater compliance focus on over-the-counter (OTC) drugs and other health product manufacturers. In a July 2019 column for Pharmaceutical Online, we analyzed these OTC-specific compliance trends, pulling out the following common issues appearing in warning letters.
We've summarized the common themes of noncompliance below, but full details can be found in our article here.
Documented Adherence to Relevant Regulations and Standards
Many recent warning letters to OTC manufacturers highlight fundamental issues related to the understanding and practical implementation of the 21 CFR 200 series, as well as relevant USP standards that address specific types of products and the systems used to produce them.


Establishment and Suitability of Analytical and Microbial Testing and Validation Methods
Inadequate method development (method suitability and validation in particular) is another common theme in recent warning letters issued to OTC drug manufacturers. These critical processes are complex, often involving wide specifications, broad parameters, and the inherent variation that comes from working with living organisms.


Nonconformance Management
Another recent trend afflicting OTC drugmakers mirrors a broader and well-documented trend throughout the drug and device space: inadequate nonconformance management. As demonstrated by a large number of citations issued specifically for "inadequate, incomplete, and undocumented investigations," these warning letters offer evidence of a long-standing perception that an outsized focus is placed on immediate nonconformance correction rather than on thoroughly investigating and executing corrective and preventive actions following a comprehensive root cause analysis.


Roles, Responsibilities, and Authority of the Quality Unit
The internal quality unit (QU) has been the target of many recent warning letters to OTC drug and health product manufacturers as an underlying cause of product quality and GMP compliance problems. Numerous firms have been cited for having an inadequate QU. In the most egregious examples, firms lacked this designated team entirely. More often, however, regulators have cited firms for a lack of written procedures that govern the responsibilities and functions of this group. 21 CFR Part 211 is clear about the need to establish a "quality control unit" with the documented responsibility and authority to make critical decisions.
Dive Deeper: 4 Trends In Recent FDA Warning Letters To OTC Drugmakers — And How To Avoid Them
Based on a growing number of relevant warning letters, as well as analyses of enforcement trend data and public statements made by the FDA, it's clear that a renewed focus has been placed on evaluating manufacturers of OTC drug and health products in key areas of GMP.
These areas of enforcement focus include ineffective quality units, poor testing of incoming materials and components (i.e., relying on a supplier's certificate of analysis), poor product testing, poor analytical and microbial testing and validation methodology (including method suitability), and inadequate nonconformance management.
Takeaways, Resources, and Next Steps
Publicly available warning letter and inspection observation data provide powerful resources for understanding areas of regulatory focus and a benchmark for evaluating potential vulnerabilities within the quality system and beyond.
In general, this year's trending issues demonstrate a continued focus on investigating and citing firms for deficiencies in basic GMP requirements and an overall uptick in total citations across the pharmaceutical space. Manufacturers of OTC and other health products have come under increased scrutiny for a lack of basic GMP competencies and adherence to requirements. In some cases, the language used by regulators and the details of the issues they observe suggest a deliberate decision to forgo compliance as a cost-saving measure.
The observed lack of adequate written procedures and responsibilities for the quality unit has remained a trending issue throughout recent history and its recent uptick has resulted in numerous warning letters.
Download our relevant resources below for practical insight into mitigating many of the trending issues throughout the life sciences.
Relevant Resources

The OTC Drug Manufacturer's Guide to CGMP Compliance & Quality Management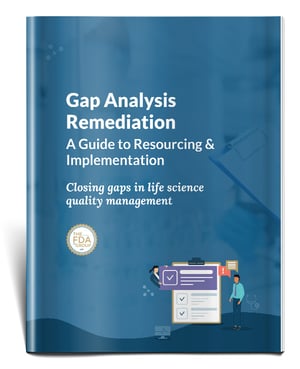 Gap Analysis Remediation: A Guide to Resourcing & Implementation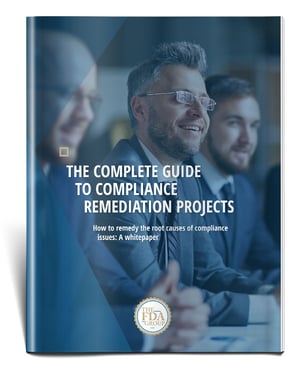 The Complete Guide to Compliance Remediation Projects
Get Expert Quality & Compliance Assistance Now
In many of its warning letters, the FDA has "strongly recommended" engaging a third-party consultant qualified in the relevant regulations to assist in meeting CGMP requirements.
While we help many companies resolve Forms 483 and warning letters, we also help prevent them from being issued in the first place. At The FDA Group, we plan and conduct effective internal quality audits to ensure your quality system is completely aligned with all documentation and operations — the critical part of any internal audit. More broadly, we assess your current systems and make the necessary improvements for ensuring regulatory expectations are met across all functions of your organization. Read our case studies to learn how we've helped firms meet a variety challenging life science goals.
In addition to assisting in project-based consulting capacity, we help life science organizations fill key roles on their team through contracted and direct hire engagements. Explore our service areas to learn how we can locate, secure, and manage top industry talent, and/or work in a project-based capacity to evaluate, correct, and maintain your quality system.
---
Need assistance now or planning for the future? Get in touch with us today and get the conversation started »