In September, 2020, the FDA released a new Guidance for Industry entitled, "Resuming Normal Drug and Biologics Manufacturing Operations During the COVID-19 Public Health Emergency."
The document outlines numerous recommendations for pharmaceutical manufacturers on maintaining Current Good Manufacturing Practices (CGMPs) as they resume normal operations.
There is no doubt that company leadership, quality assurance professionals, and other leaders face a difficult road ahead: overcoming supply chain disruption, site closures, travel restrictions, absenteeism, quarantines, and lockdowns; not to mention the potential of additional waves of COVID-19.
Here, we identify the recent recommendations and boil down the critical aspects of this FDA guidance document.
The additional clarity and synthesis of information will provide a better understanding on how to effectively and efficiently pursue a return to normal drug and biologics manufacturing processes.
FDA Recommendations at a Glance
The guidance reminds companies that under the Federal Food, Drug, and Cosmetic Act (FD,&C), a drug, including an Active Pharmaceutical Ingredient (API) "…is deemed to be adulterated if the methods used in, or the facilities or controls used for its manufacture, processing, packing, or holding do not conform to or are not operated or administered in conformity with CGMP..."

In addition to ensuring drug safety, products must meet the characteristics of purity, identity, strength, and quality that they are purported to have. In order to avoid drug product adulteration during the COVID-19 public health emergency, manufacturers should address deviations from established CGMP and employ the appropriate risk management strategies.
---
Need professional assistance from third-party quality assurance experts? Learn how we can help or contact us and get the conversation started.
---
Addressing Deviations
Manufacturers should first assess the impact of the CGMP activities that need to be delayed, reduced, or otherwise modified to maintain drug supply as a result of the pandemic. After identifying deviations from established CGMP activities, remediation strategies may be necessary. In cases of deviation from critical CGMP processes, FDA recommends that batches should be quarantined until remediation processes that ensure drug quality are completed.
There are a number of scenarios in which remediation during the COVID-19 public health emergency may be needed. We've summarized the agency's specific points of consideration below.
Note: If you need expert quality system remediation assistance with these or any other matters, get in touch with us as soon as possible to plan and execute a remediation project planned and led by experienced third-party professionals.
1. If investigations into non-critical product or process discrepancies/deviations occurring prior to COVID-19 continue to be unresolved, for example:
Were staff not present to fully observe/gather information?
Were their short-term changes to normal operations that risk product quality?
Should procedures that analyze issues such as discrepancies or non-conformance be updated due to this public health emergency?
2. If testing was incomplete or occurred under conditions that could have compromised the accuracy of test results, for example:
For testing that indirectly measures batch operations, what was the impact on drug quality?
For testing not associated with a batch, should additional testing be conducted to confirm the appropriateness of the facility to manufacture drugs of high quality?
If operations or materials were changed in any way, was the change first evaluated under the organization's change management program? Is additional investigation needed to determine suitability of batch release?
3. FDA recommends that manufacturers be proactive in obtaining information from suppliers on any difficulties in obtaining drug materials, for example:
If an on-site audit of a supplier is not possible due to travel restrictions, what measures can be pursued to ensure material quality?
Should the supplier qualification program be updated?
Were there any changes to logistics in transportation that may have a negative impact on quality?
4. In cases where facilities/equipment have not been appropriately maintained or were interrupted, for example:
Were there disruptions or changes to water, electricity, sewage, or other utilities that may pose challenges to operational capabilities?
Were there any equipment changes, such as additional barriers for operator safety that were not qualified prior to use? Does this necessitate a retrospective evaluation?
Was there a change in cleaning/disinfection that has necessitated a reassessment of cleaning procedures?
Risk Management and Other Important Strategies
Regulators emphasize the value of establishing a drug manufacturing resumption plan in conjunction with a sound emergency plan. Organizations that interface both types of plans will likely be more resilient to major changes brought on by COVID-19, particularly in the event of numerous waves of the pandemic.
Those organizations that did not establish such plans prior to the onset of the COVID-19 pandemic are currently in a suboptimal position that could indeed lead to errors or poor decisions. The FDA strongly encourages the establishment of emergency plans as well as resumption plans. This will likely result in a more agile and productive biopharmaceutical organization and a good supply of high-quality medications for the public.
Strong resumption plans share several important characteristics, some of these are:
The incorporation of a risk management approach that identifies, evaluates, and mitigates factors that may impact product quality
Active involvement of leadership
A timeline for implementing priorities
Review and approval by the drug manufacturer's quality unit
Appropriate prioritization of tasks, such as the manufacturing of drugs that are in short supply; or activities that must occur prior to normal batch production
A Brief Review of FDA's June Guidance
On June 19th, 2020, the FDA issued a guidance that, in some ways, offered a precursor to the points presented in the more recent guidance. Specifically, the June guidance, "Good Manufacturing Practice Considerations for Responding to COVID-19 Infection in Employees in Drug and Biological Products Manufacturing," offered advice for makers of of human and animal drug and biological products on managing the the risks associated with COVID-19 infection in staff.
The June guidance focused on three main areas in particular, but notably, it relied entirely on existing regulations:
1. Using manufacturing controls to prevent product contamination by SARS-SoV-2
The guidance underscored existing regulations that require personnel experiencing illness that could adversely affect the safety or quality of drugs products to remain out of direct contact with, as stated in the document, "components, drug product containers, closers, in-process materials, and drug products" until their condition is resolved.
In addition to monitoring personnel with access to manufacturing areas who have been exposed to either confirmed or suspected cases of COVID-19, staff who test positive must isolate and not come to work until they meet CDC's criteria for ending home isolation.
2. Using risk assessments to understand the risks to the safety and quality of drugs posed by the virus
Companies should use risk assessments to evaluate their CGMP controls and take the necessary steps to to ensure they're able "protect materials, components, drug container closures, in-process materials, and/or drug from sick employees..."
In practical terms, this means reviewing your contamination and personnel control programs in light of the unique risks of COVID-19. How does your system stand up to the threat of personnel-induced contamination? It also means assessing your viral control strategy specifically for the novel coronavirus. Contact us to get expert assistance with these or other measures.
3. Ensuring all activities are reflected in the QMS
Regulators call attention to the fact that "a drug that is not manufactured, processed, packed, or held in conformity with current good manufacturing practice to assure that the drug meets certain quality and purity standards is considered adulterated."
It's important to make sure all changes and activities are adequately documented and reflected in the QMS.
Summary, Final Thoughts, and Next Steps
The COVID-19 pandemic has caused unprecedented challenges for biopharmaceutical manufacturers in complying with CGMP, maintaining global drug supply, and keeping their own employees safe.
The regulations and guidances to ensure a high quality of life-supporting and life-saving drug products yet remain.
Resumption of normal biologics manufacturing operations during this global health emergency is complex yet achievable. Critical elements for success include a step-wise approach that targets and evaluates deviations from established CGMP activities, adherence to risk management protocols, and proper prioritization of tasks.
The FDA Group is perfectly positioned to assist life sciences organizations in meeting both resource and project-based workforce needs. Learn more about our quality assurance services and get in touch with us today to get the conversation started.
Considering a CGMP audit in response to the unique challenges and threats posed by COVID-19? Learn everything you need to know about planning and hosting a remote quality audit in our free white paper below.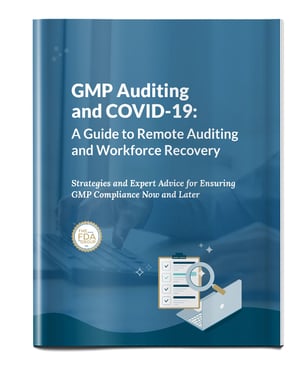 FREE WHITE PAPER
GMP Auditing and COVID-19: A Guide to Remote Auditing and Workforce Recovery
Learn the challenges of remote auditing get strategies and best practices for overcoming them throughout each phase of assessment. This guide offers a playbook you can use to plan and host a successful remote audit.