A recent increase in FDA warning letters issued to manufacturers of over-the-counter (OTC) drug and health products has revealed a number of commonly observed areas of noncompliance with 21 CFR 200 series regulations.
The issues observed at these facilities have a few common themes and patterns, all of which indicate an underlying inadequacy within the Quality Management System (QMS). These include microbiological contamination control and detection due to poorly managed controls and a lack of suitable and validated testing, as well as flaws in manufacturing operations and quality assurance, poor nonconformance management, and issues related to the establishment, responsibilities, and authority of organizational departments, namely the Quality Unit (QU).
Read our free guide to OTC CGMP & Quality Management or watch our free webinar on the subject for an in-depth look at the problems regulators are observing and how to prevent them.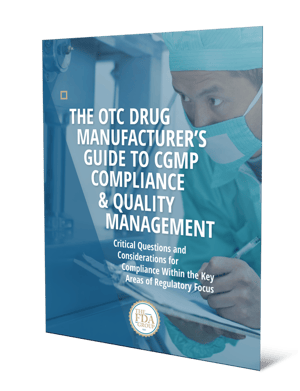 The OTC Drug Manufacturer's Guide to CGMP Compliance & Quality Management
Grab the free guide.


Microbial testing and method development — method suitability and validation in particular — has shown up repeatedly as a problem area among numerous drugmakers that has resulted in serious consumer safety concerns.
These vital processes are complex, often involving wide specifications, broad parameters, and the inherent variation that comes from working with living organisms. In regards to method suitability testing — a process used to evaluate residual antimicrobial activity of a product under testing to ensure that the results achieved in recovery test media are representative — regulating bodies like the FDA expect firms to produce and document a testing methodology that effectively neutralizes any antimicrobial effect and will allow control organisms to grow in expected numbers. Products likely to have this type of effect often contain preservative agents, and/or antimicrobial, bacterial, or fungistatic compounds.
Conducting these activities properly requires strict adherence to criteria set out in USP guidelines.
Watch an excerpt from our recent webinar below and learn why it's absolutely critical to have the appropriate comparison controls in place to ensure method development is properly carried out and the optimal technique is used. Watch the full presentation here.


Recent FDA Warning Letters: Microbial Testing


Below is a sample of citations from recent warning letters detailing various real-world observations related to microbial testing compliance. Are you at risk of the following deficiencies or similar ones?
"Over multiple years, your firm obtained recurring test results for water used as a component of your drugs, as well as results for finished homeopathic drug products, outside of microbiological limits. This testing revealed extremely high levels of microbiological contamination, including results that were Too Numerous to Count (TNTC), and identified the presence of significant opportunistic pathogens in your drugs. Furthermore, your tests of retained samples and customer complaint bottles found objectionable microbiological contamination in already distributed lots. FDA laboratory testing also revealed exceedingly high levels of microbiological contamination in multiple homeopathic drugs produced by your drug company." (21 CFR 211.22(a))
"You failed to adequately demonstrate antimicrobial effectiveness of your preservative systems. For example, you attempted to evaluate antimicrobial effectiveness of one of your liquid drugs and consider it suitable for its intended use in over several hundred other drugs with varying formulations. You lacked adequate studies to demonstrate the adequacy of your preservative systems and your firm has continued to identify very hazardous contamination levels in your products." (21 CFR 211.100(a))
"Your firm failed to investigate test results showing that your water exceeds the allowable limit for microorganisms. Your tests on samples from your water system indicated that microorganism levels were too numerous to count (TNTC) on 25 out of 96 days. You use this water as a major component in manufacturing over-the-counter (OTC) drug products. Your failure to investigate violated your written procedures which require an investigation when results are above colony-forming units/milliliter (cfu/mL). This system is fundamentally flawed as it is not capable of producing water that is suitable for use in pharmaceutical manufacture." (21 CFR 211.192)
"Our investigator found that your microbiological test methods are not adequately verified. Specifically, you did not show that these methods can recover microorganisms in the presence of the antimicrobial agents that are present in your drug products. In response to this letter, provide supporting documentation demonstrating the suitability of your microbiological test methods for your drug products. If your review reveals that a method is deficient, provide your CAPA plan. In addition, provide a comprehensive assessment of your laboratory operations and specify all CAPA activities to be undertaken to ensure your laboratory operations are robust." (21 CFR 211.160(b))
"In your response, you state that you "indirectly verified" your method suitability. You also state that you will be using [method] in the future to 'neutralize preservative systems.' Your response is inadequate because you did not provide any test results to demonstrate that your microbiological test methods are suitable for their intended use." (21 CFR 211.160(b))
"You used a raw material lot with a too-numerous-to-count result for total aerobic microbial count." (21 CFR 211.192)
"You did not identify the microorganisms to determine whether any were potentially pathogenic and failed to evaluate the consumer hazard posed by this microbial contamination. You decided that this ingredient batch did not need to conform to a microbial specification because it is from a natural mineral source." (21 CFR 211.192)
"Your firm failed to adequately validate the test methods you use with your microanalyzer to analyze the microbiological properties of your deionized water, raw materials, and finished drug products. You attempted to validate your test methods, but you failed to evaluate: whether your media can promote microbial growth; your ability to detect specific microorganisms; your system's limits and accuracy; your method's suitability to detect microorganisms in a sample; and, your method's reproducibility." (21 CFR 211.165(e))
"You released multiple batches of drug products without conducting tests to ensure they were free from objectionable microorganisms. It is essential that your drug products are produced in a manner that is suitable for their intended uses and that each batch is tested for conformance to appropriate microbial quality specifications." (21 CFR 211.165(b))
"Your response is inadequate because you did not provide your verification studies including data to show the suitability of the compendial method being used. Your response also failed to provide data to show that all previously released products, that remain on the U.S. market, were tested and found to meet your newly implemented USP microbial release specifications." (21 CFR 211.165(b))


Sample Questions for Assessment
Are you compliant with relevant USP (and other) standards for testing products?
Are your sample handling procedures complaint with relevant regulatory expectations?
Are you outsourcing sample testing?
Are testing samples bring labeled and shipped appropriately?
How can you demonstrate that you're maintaining the integrity of your samples if/when they're shipped?
Have you conducted method suitability to ensure your testing methods are appropriate and effective?
Be Proactive & Prevent Compliance Issues


In many of its recent warning letters to OTC and related firms, the FDA has "strongly recommended" engaging a third-party consultant qualified in the relevant regulations to assist in meeting CGMP requirements.
While we help many companies resolve FDA 483s and warning letters, we also help prevent them from being issued in the first place. At The FDA Group, we plan and conduct effective internal quality audits to ensure your Standard Operating Procedures (SOPs) are completely aligned with all documentation and operations — the critical part of any internal audit. More broadly, we assess your current systems and make the necessary improvements for ensuring regulatory expectations are met across all functions of your organization.
While European regulators monitor this process with SOPs in-hand, the FDA in particular relies heavily on documentation to hold companies accountable for their actions. Our team of former FDA and industry experts can evaluate your procedures, personnel, and closely look at all documentation to ensure consistency throughout your organization.
Contact us to learn how we can assist in assessing and improving your quality system to ensure you're fully prepared for regulatory inspection.
The OTC Drug Manufacturer's Guide to CGMP Compliance & Quality Management
Grab the free guide.