Watch our free recorded webinar: CGMP & Quality Management for OTC Manufacturers
6 Critical Compliance Questions in Areas of Regulatory Focus
45-minute presentation with 15-minute Q&A.
---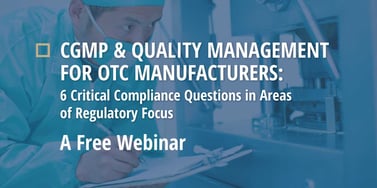 The FDA has stepped up inspections of manufacturing facilities producing over-the-counter (OTC) drugs and similar health products following a number of repeatedly observed current good manufacturing practice (CGMP) deficiencies.
This has resulted in multiple warning letters, import alerts, and recalls.

Most of these issues demonstrate fundamental problems related to the quality management system (QMS).

Watch this free recorded webinar and learn the six key questions for assessing CGMP compliance and quality management related to the issues being observed in OTC manufacturing facilities.


What you'll receive in this presentation:
• A brief overview of the six common themes of noncompliance at OTC facilities
• Expert analysis into warning letter excerpts and sample questions firms should ask when assessing necessary remediation efforts
• Firsthand examples of issues observed during CGMP audits in the field
• An overview of relevant regulations and standards

• An opportunity to get questions answered by our panelists

About the Presenters

Larry Stevens, RAC, has held almost every field position within FDA during his 21-year career with the Agency. He has over 18 years of experience in the medical device industry, rising from an RA Manager to Vice President of RA/QA/Clinical for major class III device manufacturers.
He specializes in p
lanning, creating, and auditing quality systems as well as creating clinical plans, including protocol development, case report form development, and implementing and managing clinical trials. He also assists in design control to meet FDA requirements. Larry is a professional speaker who regularly trains on all aspects of FDA requirements while offering practical, successful solutions to FDA problems.
Alan D. Greathouse has over 15 years of CGMP manufacturing experience focused on parenteral drug products. Throughout his career, he has optimized countless manufacturing processes and excels at identifying and correcting operational inefficiencies.
Join us for this free webinar ⤴