Compliance with FDA regulations is crucial for manufacturing or distributing medical devices in the United States.
These regulations require a 510k submission or premarket approval (PMA) depending on the device's classification and associated risk level.
To ensure compliance, medical device manufacturers should follow these steps right from the start of product development:
Refer to FDA guidelines to determine your device's classification.
Based on this classification, identify whether your device requires premarket approval. Then, decide whether you should opt for a 510k submission or an FDA PMA.
Submit all the necessary documentation to the FDA to obtain the required approval for your device.
FDA 510k vs. FDA PMA: A Brief Breakdown
The FDA 510k submission and the FDA PMA (Premarket Approval) are two distinct processes for gaining FDA approval for medical devices, each with its own requirements and procedures.
Let's quickly break it down:
FDA 510(k) Submission (Premarket Notification)
The purpose of a 510(k) submission is to demonstrate that a medical device is similar enough to an FDA-approved device known as a predicate device. This process requires documented evidence to compare the new device with the predicate device.
Laboratory testing is necessary, but human testing may not be required. The submission should include details such as the intended use, indications for use, design inputs, and design verification. Information from the Design Controls process is crucial.
The FDA usually takes 30-90 days to process 510(k) submissions—however, the entire premarket notification process can take much longer. If accepted, the submission is listed in the database. Generally, Class II medical devices require a 510k submission.
FDA PMA (Premarket Approval)
The PMA process is used to ensure that a new medical device is safe and effective for its intended users. It involves extensive clinical trials and laboratory testing and has higher standards than the 510(k) process, requiring more detailed and comprehensive evidence of the device's safety and effectiveness.
The FDA has 180 days to review and decide on a PMA application. Typically, Class III medical devices, which are usually higher risk and more complex than Class II devices, require a PMA application.
When to Submit a 510(k) Premarket Notification
Tthe 510(k) submission is a streamlined process mostly or medium-risk medical devices that are substantially equivalent to existing devices. It's a critical pathway for many manufacturers to enter the U.S. market, but it's important to understand the specific requirements and limitations of this process.
Here are some key points that factor into this decision:
Applicability: Ideal for medium-risk devices (usually Class II) that are similar to existing, or predicate, devices already available in the U.S. market.
Advantages:

The 510(k) route is often the fastest and most cost-effective way to get a medical device cleared for the U.S. market. Approximately half of all medical devices in the U.S. are cleared through this process.

Submission Timing:

The FDA advises submitting a 510(k) at least 90 days before you plan to market the device, however, it's very often the case that this process can extend to be much longer. This timeframe allows the FDA adequate opportunity to review and 'clear' the device for U.S. use.

Requirements:

A 510(k) submission must demonstrate that the device is 'substantially equivalent' to a predicate device in terms of safety, effectiveness, and intended use. While laboratory testing documentation is necessary, human clinical data is usually not required. However, for devices with significant modifications, clinical trial data might be requested at the FDA's discretion.

Clearance vs. Approval:

It's crucial to understand that the 510(k) process is a clearance mechanism, not an approval process. Even if a 510(k) submission is cleared, the device cannot be marketed as 'FDA-approved'.
Submitting a 510(k) for a change to an existing device
Determining when to submit a 510(k) submission for changes to an existing medical device is a critical aspect of maintaining regulatory compliance. The FDA recognizes different scenarios for submitting a 510(k), particularly for devices already on the market.
These submissions fall into three main types:
1. Traditional 510(k) Submission: A new device, never cleared before or a device undergoing significant change. It's mandatory to gather fresh supporting performance data for significant updates to a device. This applies to major modifications in design, material, or intended use that could affect the safety or effectiveness of the device. The process is similar to that of a new device that has never been cleared.
2. Special 510(k) Submission: Used when there's a change to an already-cleared device that tdoesn't require extra V&V performance data. This pathway is appropriate for making significant changes that do not need additional verification and validation performance data. Some common examples include updates to labeling or packaging, such as adding a new warning to the manual or changing the packaging process for a sterilized device, without making any alterations to the device itself.
3. Abbreviated 510(k) Submission: Shows substantial equivalence to a recognized started, specific control, or guidance instead of a predicate device.
Medical devices that are already in the market can follow either the 'traditional' or 'special' route for 510(k) pathways. If you need fresh supporting performance data for a significant update to your device, then the 'traditional' 510(k) submission is required.
This process is similar to the submission for a brand-new device that has not been cleared before. On the other hand, if the change you want to make is significant but doesn't require additional verification and validation performance data, then the 'special' pathway is for you.
Usually, this pathway is followed for updates to the labelling or packaging of the device, such as adding a new warning to the manual or altering the packing process for a sterilized device, but not for the device itself.

What Constitutes a 'Significant' Change
The term 'significant' can be somewhat ambiguous, but generally, it refers to any modification that could impact the safety, integrity, or efficacy of the device once it reaches the patient. It requires using professional judgment. For instance, adding a new operational part or function to your medical device likely necessitates a new 510(k) submission. However, minor aesthetic changes like altering the device's color or the dimensions of its shipping boxes typically do not require a new submission.
When to Submit a Premarket Approval (PMA)
A PMA is necessary for high-risk Class III medical devices. It requires extensive evidence of safety and effectiveness, usually including both laboratory tests and clinical trials. Manufacturers must be prepared for a comprehensive documentation process and ongoing communication with the FDA.
Here are some key points that factor into this decision:
Device Classification and Risks: PMA is specifically designed for Class III medical devices. These devices either support or sustain human life, are crucial in preventing impairment of human health or pose a potential, unreasonable risk of illness or injury. Due to their high-risk nature, general and special controls are deemed insufficient for Class III devices. Consequently, they require a PMA application under section 515 of the FD&C Act for marketing clearance.
The PMA Process:

This process involves a thorough FDA review to assess the device's safety and effectiveness. PMA applications typically include technical sections, which are usually divided into non-clinical laboratory studies and clinical investigations. These sections provide detailed information on the device's performance, both in the lab and in clinical settings.

Clinical and Non-Clinical Data:

Extensive scientific evidence, including laboratory and clinical trial data, is essential for PMA. The clinical trials should be well-designed to rigorously evaluate the device's safety and efficacy. Manufacturers need to be well-prepared with detailed documentation, encompassing every aspect of the device, from its design and manufacturing process to the results of all testing.

FDA Review and Compliance:

A facility inspection to confirm compliance with 21 CFR 820 is typically required before PMA approval. The FDA retains the right to approve, deny, or request additional data at any stage. This requires manufacturers to be responsive and thorough in their submissions.

Exceptions: It's important to note that some Class III preamendment devices may still require a Class III 510(k) submission instead of a PMA.

The De Novo Pathway
The De Novo pathway is a critical process for the marketing of novel medical devices that are of low to moderate risk and lack a valid predicate device. It allows for the creation of new device classifications and facilitates the introduction of innovative technologies into the healthcare market, while ensuring safety and efficacy standards are maintained.
This pathway serves to fill the gap where such devices do not fit the traditional 510(k) or PMA pathways.
Here's a detailed overview of the De Novo process:
Purpose and Scope: The De Novo pathway is intended for novel devices that are classified as low to moderate risk but do not have a predicate device already available in the market. If a De Novo petition is successfully reviewed by the FDA, it can lead to classification of the new device type, establishment of a new regulation, and specification of any special controls necessary for future premarket submissions of devices that are substantially equivalent.
Submission Options: There are two options available for companies seeking FDA clearance for a new device. The first option is to submit a 510(k) application. If the device isn't deemed substantially equivalent to any other existing device, the company can then submit a De Novo request. The second option is to directly submit a De Novo petition without a prior 510(k) submission.
Role in Future Submissions: Devices that are successfully classified through the De Novo process can be used as predicate devices for future 510(k) submissions. This establishes a new category for similar future devices, simplifying their path to market.
Pre-Submission Consultation: When considering a De Novo petition, it's highly recommended to conduct a pre-submission meeting with the FDA. This step allows companies to discuss the device, its classification, and receive guidance on the submission process.
Significance of De Novo Pathway:The De Novo pathway is a regulatory route that fills a crucial gap for innovative devices that don't fit into the existing classification framework. It ensures that novel medical devices, which can bring significant advancements in technology, have a viable route to the market.

Need expert PMA or 510(k) support? We can help.
The regulatory landscape is constantly changing. Our large staff of former FDA and industry experts ensure you stay on top of it all. Whether you need help preparing submissions or need to staff your internal team with an experienced expert, we help you navigate complex regulatory challenges, bring your products to market, and keep them there.
We'll work with you in both pre- and post-marketing drug safety regulations, regulatory filings, marketing authorization applications, variations and renewals, and carefully develop due diligence strategies. Our regulatory experts manage the entire registration process for new drugs, biologics, generic products, and medical devices.
Review of client technical dossiers and developmental plans
Research and interpretation of regulations
Determination of regulatory status
Pre-submission review of technical documents
Critical writing and review of documentation
Clinical trial applications and notifications (IND, IDE, CTX, etc.)
Marketing Application Support (NDA, BLA, ANDA, 510(k), PMA, etc.)
Orphan Drug, Treatment Use, and ANDA Suitability petitions
Our experts prepare all major regulatory submissions and provide extensive quality control review for all trial-related documentation, such as:
Regulatory Agency and IRB/EC submissions
Procurement of Import/Export license
Initial submissions, amendments, notifications, and closeout submissions
Working collaboratively, our regulatory specialists coordinate all aspects of your trial's document collection and submissions, including:
Managing all regulatory documentation as part of the start-up, conduct, and close-out phases
Coordinating clinical trial application filings to regulatory agencies
Ensuring submissions comply with regulations
Managing submissions and document storage processes
Staying abreast of all regulations to ensure documentation compliance
Our team of experienced regulatory scientists can write the nonclinical, clinical, and CMC sections in CTD and traditional format for your new drug and biologic applications.
Learn more about our services and contact us today to take the first step toward bringing your product to market quickly and efficiently.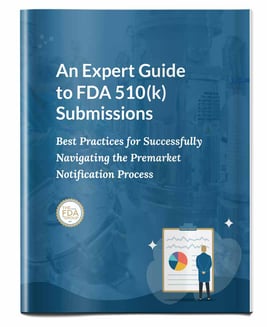 FREE GUIDE

An Expert Guide to FDA 510(k) Submissions
Download our free white paper and get the best practices you need to successfully navigate the premarket notification process.