In the dynamic world of medical device manufacturing, understanding and successfully navigating the FDA's 510(k) submission process is crucial.
This guide is designed to demystify this often complex and daunting journey, providing you with the essential knowledge and strategies needed to achieve clearance for your product in the U.S. market.
The 510(k) submission is critical for any company looking to introduce a medium-risk medical device in the United States. This process is not just a formality; it is a thorough clearance process that evaluates the safety and efficacy of your device.
Surprisingly, almost half of all medical devices used in the U.S. have undergone this rigorous scrutiny, with approximately 3,000 submissions made annually. However, the challenge is significant: in 2022, 30% of these submissions didn't even pass the initial review stage.
Preparing a 510(k) submission is a colossal task. It involves countless hours of gathering data, sourcing the correct templates, and deciphering the FDA's guidelines. Even after dedicating immense effort and resources, over 64% of 510(k) applications are rejected, with a significant portion not even reaching the initial review stage.
The harsh reality is that having a promising device and robust supporting content is often insufficient to secure FDA clearance.
Read our full guide to the FDA 510(k) process.
▶️ Navigating the 510(k) Process: A Q&A with Regulatory Consultant Trey Thorsen, MS, RAC
Watch our interview with regulatory affairs consultant Trey Thorsen, MS, RAC, who answers some common questions regarding the 510(k) process:



Need expert help navigating the premarket notification process? Learn more about our 510(k) consulting services and contact us today to rapidly access the industry's top regulatory talent.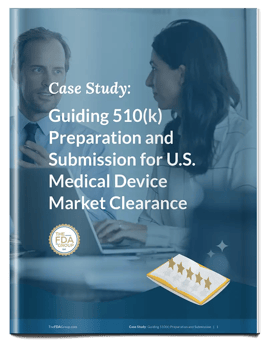 FREE CASE STUDY

Guiding 510(k) Preparation and Submission for U.S. Medical Device Market Clearance
Learn how The FDA Group supported a biomedical sensor company's FDA premarket notification by redirecting its regulatory strategy to the optimal 510(k) program, providing expert guidance to a small in-house regulatory team, and engaging with regulators.
What is an FDA 510(k) Submission?
The 510(k) is a technical file that must be submitted to the FDA to demonstrate that your medical device is substantially similar to a product that is already available on the market. It is a quality and compliance barrier designed to ensure that only safe and effective medical devices are allowed to be sold in the United States.
The main focus of the 510(k) process is to prove substantial equivalence, which means that your device is similar to another device that is already available on the market, known as a predicate device.
To submit a successful 510(k) application, you need to show that your device is like the predicate device and explain how. Since the predicate device is already on the market and has proven to be safe and effective, the FDA assumes that your device is also safe and effective.
An effective 510(k) submission:
Demonstrates that your medical device is substantially equivalent to a predicate already on the market.
Provides detailed technical, safety, and performance device/test information to show your device is safe and effective
Demonstrates you have a robust medical device quality and risk management system.

Pre-Submission Basics
Before we dive into the components of a 510(k) itself, it's important to briefly review the basics of the 510(k) process.
Medical device classes
The FDA categorizes medical devices marketed in the United States into three main risk classes: Class I (low risk), Class II (medium risk), and Class III (high risk).
Primarily, the 510(k) submission process is relevant for Class II devices, which fall into the medium-risk category. However, there are exceptions. In rare instances, Class I and III devices may also require a 510(k) submission, but typically, it's the Class II devices that necessitate this process.
The biggest advantage of the 510(k) pathway is that it enables you to market your Class II device without undergoing clinical trials. This is achieved by demonstrating 'substantial equivalence' to a legally marketed predicate device—a concept we've previously explored.
The first step in the 510(k) submission process is to determine whether this pathway is applicable to your device and whether your device is exempt from the 510(k) requirements.
Additionally, it's crucial to distinguish when a 510(k) submission is appropriate as opposed to seeking Premarket Approval (PMA). Understanding this difference and knowing which pathway to pursue is a critical early step in the device approval process.
510(k) predicate devices
When submitting your medical device for clearance, selecting an appropriate predicate device is a crucial step.
The predicate device serves as a benchmark to demonstrate that your device is substantially equivalent in terms of safety, effectiveness, and intended use. It is important to carefully consider and choose the right predicate device to ensure a successful submission for your FDA 510(k).
To choose a suitable predicate device, it should align with your device in three fundamental aspects:
Intended Use: The predicate device must have the same intended use as your device. This means the purpose and function of both devices should be closely aligned.

Similar Technology: The technology and principles underlying the operation of your device should be similar to those of the predicate device. This similarity in technology ensures that the comparison is relevant and meaningful.

Comparable Safety and Efficacy: The level of safety and effectiveness of your device should be on par with the predicate device. This is crucial to establish that your device can be safely used for the intended purpose without introducing new risks or diminished efficacy.
When no suitable predicate exists
In cases where your device is definitively classified as Class II but lacks a substantially equivalent predicate—often the case with highly innovative medium-risk devices—you might need to consider the de novo pathway.
This alternative route is for devices that do not fit neatly into the existing classification and predicate framework.
The nuance of substantial equivalence
The idea of substantial equivalence doesn't mean that the devices are exactly the same. If they were identical, they wouldn't have any competitive advantage or innovation.
Therefore, while ensuring that your device aligns with the predicate in the key aspects mentioned above, it's also important to maintain a balance that allows for differentiation and innovation. Using good judgment is crucial to demonstrate equivalence without sacrificing the uniqueness of your product.
Who submits a 510(k)?
Submitting a 510(k) to the FDA involves different entities in the medical device industry. Knowing who is responsible is crucial for compliance and market entry.
Below, we outline the four main groups involved in this process.
1. Domestic Medical Device Manufacturers
American manufacturers of Class II medical devices are the most frequent submitters of 510(k) applications. Within these companies, it's typically the quality or regulatory lead who handles the 510(k) submission as a part of the product's market launch activities.
2. Representatives of Non-US Manufacturers
Companies outside the U.S. that wish to market their medical devices in the United States are the second most common group for 510(k) submissions. These manufacturers must appoint a U.S.-based representative to submit their 510(k) on their behalf, as per FDA regulations.
3. Specification Developers
If you have designed and developed a medical device but outsourced its production to a Contract Manufacturing Organization (CMO), the onus of the 510(k) submission still lies with you, not the CMO. Despite not being directly involved in manufacturing, specification developers are responsible for ensuring their products meet FDA requirements through 510(k) submissions.
4. Repackers and Relabellers
Repackers and relabellers within the medical device supply chain are less frequently responsible for 510(k) submissions, but it does occur under certain conditions. This responsibility typically arises in cases of significant process changes, such as notable alterations in labeling (e.g., new uses or warnings) or repacking methods that could impact the device's safety or integrity (like changes in sterilization procedures).
---
Special Note on Submission Updates: In some scenarios, especially for repackers and relabellers, the 510(k) submission might serve as an update to reflect substantial changes in usage, labeling, or packaging processes that could affect the device's performance or safety.
The types of 510(k) submissions
When pursuing FDA clearance for your medical device under the premarket notification criteria, you have three distinct 510(k) pathways to choose from: Traditional, Abbreviated, and Special. Each type caters to different scenarios and requirements, as outlined in the FDA's "Refuse to Accept Policy for 510(k)s" guidance document.
It's crucial to understand the nuances of each to select the most appropriate pathway for your device.
Traditional 510(k)
This pathway is ideal for original devices that haven't been previously cleared and don't require a Premarket Approval (PMA). It's also suitable for modifications to previously cleared devices that don't qualify for a Special 510(k).
Requirements: You need to identify predicate devices, focusing on indications for use and technological characteristics. The FDA's guidance on Evaluating Substantial Equivalence in Premarket Notifications (510k) outlines the necessary criteria.
Abbreviated 510(k)
Developed as an alternative to the traditional route, the Abbreviated 510(k) is applicable when submissions rely on FDA guidance documents, compliance with special controls, or adherence to voluntary consensus standards.
Submission Content: While it requires the same sections as the Traditional 510(k), manufacturers can supplement their submission with summary reports demonstrating compliance with the relevant standards or controls to establish substantial equivalence.
Review Timeframe and Effort: The review period for an Abbreviated 510(k) is typically within 90 days but can extend beyond that of a Traditional 510(k). This pathway doesn't necessarily reduce the workload but can be more straightforward when proving equivalence to a standard rather than a predicate device.
Special 510(k)
This is for changes to a manufacturer's own legally marketed device. The recent update in the Special 510(k) guidance allows for reviewing changes that affect the device's intended use or fundamental scientific technology
Focus on Design Control Procedures: The FDA now emphasizes the manufacturer's design control procedures used in evaluating the changes. The aim is to ensure that the outcomes are reliable and do not impact the established requirements for substantial equivalence. This includes summary or risk analysis formats for review.
Choosing the right path
Most devices will likely follow the traditional route, which is the focus of this guide. While the 'Abbreviated' pathway might sound appealing, it can take longer for FDA review and does not necessarily entail less work. This route is chosen primarily when demonstrating compliance with regulatory standards or guidance is more feasible than proving equivalence to a predicate device.
510(k) submission review process and timeline
| | | |
| --- | --- | --- |
| Day 1 | Within 7 days | By day 15 |
| The FDA receives 510(k) application. | The FDA sends an Acknowledgement Letter or a Hold Letter if there are issues with user fees and/or eCopy. | The FDA conducts an Acceptance Review. FDA informs the applicant if 510(k) is accepted for Substantive Review or placed on RTA Hold. |
| By day 60 | By day 90 | By day 100 |
| The FDA conducts a Substantive Review. The FDA communicates Substantive Interaction with the applicant that indicates whether the FDA will proceed with an Interactive Review or ask for Additional Information. | The FDA sends final MDUFA Decision on 510(k). | If an MDUFA Decision is not reached by day 100, the FDA provides a Missed MDUFA Decision Communication that identifies any outstanding review issues. |

The 510(k) Submission Process—At a Glance
Navigating the FDA 510(k) submission process can be intricate. This guide breaks down the key steps involved, offering clarity and direction for a successful submission.
Step 1: Find your predicate device
Many firms start by searching online for similar medical devices. This can give you a broad understanding of your device category and potential predicate devices.
Use the FDA's 510(k) database to find predicates specifically. Here, you can access detailed information about each device, including product codes and substantial equivalence (SESE) data. You can also find other helpful resources around the web, such as this online tool compiled by the former acting director of FDA's digital health center of excellence, Brendan O'Leary. It contains the full-text content of more than 72,000 510(k) summary packages for convenient searching.
The choice of a predicate device is critical. Ensure that the device you select meets the 'substantial equivalence' criteria in terms of intended use, design, materials, safety, labeling, and performance.
Step 2: Build a Quality Management System (QMS)
Your QMS should align with FDA 21 CFR 820 and ISO 13485, ensuring comprehensive coverage of safety and integrity standards.
Develop clear Standard Operating Procedures (SOPs) covering regulatory strategy, safety requirements, risk management, product realization, and more. Maintain meticulous records throughout the research, design, and development stages. Early documentation facilitates a smoother submission process.
Step 3: Device testing
Use your chosen predicate device as the benchmark for setting acceptance criteria in testing your medical device. Conduct various tests like mechanical, thermal, electrical, biocompatibility, and electromagnetic compatibility, among others.
Keep these tips in mind:
Align test criteria with your predicate's product claims.
Use ISO 14971 as a benchmark.
Learn from historic recalls in your product category.
Implement a digital mechanism for managing design control activity.
Make sure to allocate sufficient resources for testing, as it forms a significant portion of your 510(k) expenses. Consider in-house capabilities versus the cost of third-party testing services.
Step 4: Start the submission process
The FDA 510(k) submission comprises 20 key components. Familiarize yourself with these elements below to ensure a complete submission.
As of October 1, 2023, the FDA requires submissions to be made electronically using the eSTAR system, a dynamic PDF submitted through the CDRH Customer Collaboration Portal. This move towards digital submissions aims to streamline and expedite the process. This guided submission format simplifies the process, providing a more structured approach to ensure you cover all necessary aspects of the submission.
The Components of a 510(k) Submission
Sections 1 and 2:
Cover sheets
Section 1 – Medical Device User Fee Cover Sheet (Form FDA 3601)
---
The Medical Device User Fee Cover Sheet is essentially a payment receipt containing basic information and the type of submission. The FDA provides detailed instructions on how to complete it here. Make sure to include a copy of this completed form in your submission as Section 1.0.
Section 2 – CDRH Premarket Review Submission Cover Sheet
---
The CDRH Premarket Review Submission Cover Sheet is a document of around 5 pages and it includes nine different sections. The initial sections A through D are quite simple and require basic information about the submission type, reason for submission, and the applicant's details.
However, Sections E and F can be tricky. It is recommended to take a moment to carefully read and understand these two sections. Section E asks for information about the predicate device, while Section F asks for information about your device.
The problem is that both sections are listed one after the other, with no white space to separate them. Although there is a black line separating them, it can still be confusing. As a result, people often make the mistake of adding the predicate device name in Section F instead of their own product name.
The FDA Group recommends:
Always use the latest version of the form. If you're working on multiple submissions, remember to check for the most current revision before use.
This form is now exclusively available online. You'll need to register with the FDA and use the latest version of Adobe Acrobat to access it.
Aligning the "Indications for Use" statement on the form with the one used throughout the submission is crucial for avoiding FDA rejections of 510(k) submissions.
Sections 3, 4, and 5: Public device information
This section of the FDA 510(k) submission process focuses on providing public information about your medical device.
It includes a cover letter, indications for use statement, and a summary of the submission. Understanding what to include in these sections is critical for both compliance and strategic presentation of your device.
Section 3 – CDRH Premarket Review Submission Cover Sheet
---
The cover letter serves as an introduction to your submission, and it should be concise yet comprehensive. Ensure it includes:
Type of 510(k) Submission: Specify whether it is Abbreviated or Traditional.
Device Description: Clearly state your device type in common terms.
Submitter Information: Include the 510(k) submitter's details.
Contact Information: Provide the name, title, and phone number of at least one contact person.
Confidentiality Preference: Indicate your preference for continued confidentiality in accordance with 21 CFR 807.95.
Recommended Classification: Suggest a classification regulation and class (I, II, or III).
Review Panel and Product Code: Mention the review panel and FDA product code.
Prior Correspondence: List any related FDA document numbers from prior formal correspondence (e.g., IDE, pre-IDE, 510(k), PMA, RFD).
Section 4 – Indications for Use Statement (FDA Form 3881)
---
This section is crucial as it defines the intended use of your device. It's important to align the level of specificity with that of the predicate device to avoid additional testing or revisions. Over-specifying can raise questions about safety and efficacy, potentially leading to extended time to market.
Section 5 – 510(k) Summary
---
The summary should encapsulate the essence of your submission, including information from the cover letter, a comparison of substantial equivalence, and a synopsis of the testing performed.
Remember that the FDA makes this summary public within 30 days of their decision, so it's important to balance the inclusion of sufficient details while meeting the FDA's minimum requirements and maintaining strategic confidentiality.
The FDA Group recommends:
Ensure all information is consistent across different sections and accurately reflects your device and its intended use.
While being factual, consider how your device is presented in these public documents. This could impact market perception and competitive positioning.
Be mindful of the public disclosure of the 510(k) summary. Include essential details but avoid unnecessary specifics that might reveal sensitive information.
Sections 6, 7, 8, and 9: Public device information
Moving through the FDA 510(k) submission process, there are four templated sections that require the completion or acknowledgment of specific statements provided by the FDA.
Section 6 – Truthful and Accuracy Statement
---
This section is a declaration confirming the truthfulness and accuracy of the information in your submission. The FDA provides the exact wording for this statement. Your role is to include this statement verbatim in your submission, thereby certifying the integrity of your submission's content.
Section 7 – Class III Summary and Certification
---
If your device is Class II, this section will simply contain a statement: "This device is not a class III device." If your device is Class III and does not require PMA, this section requires more effort. You'll start with a provided statement and then include a summary addressing safety/effectiveness issues and supporting data.
Section 8 – Financial Certification or Disclosure Statement
---
If your device did not undergo clinical studies, include a single sentence: "No clinical studies were performed to test this device."
If clinical studies were conducted, you'll need to complete the appropriate FDA form. There are two forms:
Financial Certification: Used if the payment to clinical investigators was solely for the study costs without additional incentives.
Disclosure Statement: Required if the clinical investigators were paid beyond the study costs. This form also necessitates details on mitigating potential bias.
Section 9 – Declarations of Conformity and Summary Reports
---
This section involves declarations related to compliance with specific standards or regulations and summary reports of such compliance. Typically, this includes references to the standards or regulations your device conforms to and summary reports that demonstrate this conformity.
The FDA Group recommends:
Avoid incomplete submission appearance. Even if Sections 7.0 and 8.0 do not apply to your device, it's crucial to include statements clarifying their non-applicability. Omitting these sections or leaving them blank can make your submission appear incomplete, leading to potential rejection or requests for additional information.
Sections 10, 11, and 12: Predicate device comparison
Congratulations on reaching the halfway point of your 510(k) submission! This milestone marks the transition into more detailed sections that focus on comparing your medical device with the chosen predicate(s).
The ease of this part of the submission largely depends on your prior preparation, particularly in maintaining design controls and risk management documentation as part of your quality management system.
Section 10 – Executive Summary
---
This section provides an overview of your device, including comparisons with the predicate device and a summary of all testing conducted. Unlike the 510(k) Summary (Section 5), the Executive Summary is not published online post-clearance, allowing for a more detailed account of testing and development processes.
Section 11.0 – Device Description
---
This section requires a comprehensive description of your device, extending beyond the basic descriptions used in earlier sections.
Content to include here:
Detailed drawings from design outputs, including dimensions and tolerances for each device, accessory, and component.
Lists and specifications of components that come into patient contact.
Compliance with any device-specific guidance documents, if applicable.
The goal here is to give the FDA reviewer a thorough understanding of your device, laying the groundwork for the Substantial Equivalence Discussion.
Section 12.0 – Substantial Equivalence Discussion
---
This is where you demonstrate step-by-step how your device is similar or equivalent to the predicate in terms of indications for use, technology, and performance.
Start with the comparison table from the Executive Summary. Develop an easy-to-read table that highlights key similarities and differences without overwhelming the reviewer with excessive detail.
The FDA Group recommends:
Aim for clear and concise presentation, especially in comparative tables. Avoid long, intricate paragraphs that could obscure critical information.
Focus on similarities. Emphasize aspects that underscore the substantial equivalence of your device to the predicate, particularly in areas of safety and effectiveness.
Make sure your documentation is watertight. Ensure that all design control and risk management documents are accurate, up-to-date, and readily accessible for inclusion in these sections.
Sections 13, 14, and 15: Patient safety
The focus of these sections is on ensuring patient safety, which includes detailing your proposed labeling, sterilization and shelf life, and biocompatibility. Thorough documentation in these areas is essential for demonstrating the safety and efficacy of your device.
Section 13.0 – Proposed Labeling
---
This section encompasses all labeling materials, such as device labels, instructions for use (IFU), package inserts, and any patient labeling. Also, include any relevant product information from your website, as the FDA considers this part of your labeling. Prepare for potential modifications during the review process, even if you submit what you believe to be the final version of these materials. Remember, you cannot market your device until you receive 510(k) clearance.
Section 14.0 – Sterilization and Shelf Life
---
Explicitly state if your device is non-sterile. Don't rely on labeling alone to convey this information. For sterile devices, provide evidence of sterility at the end of the product's shelf life and that the device performs as expected throughout its shelf life. Include shelf-life testing results, which may involve accelerated aging tests.
Keep in mind that not all products require shelf-life testing. If your product is less likely to degrade over time, explain why shelf-life testing is not applicable. However, if you make any shelf-life claims, be prepared to support them with appropriate testing data.
Section 15.0 – Biocompatibility
---
If any part of your device comes into direct or indirect contact with patients, this section is crucial. It demonstrates that the materials used are safe and compatible for their intended use.
Include detailed protocols and reports of biocompatibility testing. The only exception is if your device is identical in material and manufacturing to the predicate device.
Unless you are the legal manufacturer of the predicate device, you likely won't have intricate knowledge of its manufacturing processes, making it necessary to conduct your own biocompatibility testing.
The FDA Group recommends:
For sections not applicable to your device, include explanations rather than skipping them. This prevents your submission from appearing incomplete.
When presenting test results, always include the testing protocol and the final report. This substantiates your claims about the device's safety and efficacy.
Sections 16, 17, and 18: Software and electrically powered components
These sections are critical for medical devices incorporating software or electrical components. If your device does not include these elements, you still need to acknowledge these sections in your submission, stating their non-applicability. However, for devices with software or electrical components, these sections demand detailed attention.
Section 16 – Software
---
Begin by defining the software's level of concern (minor, moderate, or major) and provide your rationale for this classification.
Content requirements here include:
Software Requirements and Specifications: Detail the functional and performance requirements of the software.
Risk Analysis: Discuss the risks associated with the software and how they are mitigated.
Verification and Validation: Include thorough documentation of software testing and validation processes.
Documentation Volume: The extent of documentation required correlates with the level of concern. Higher levels necessitate more comprehensive documentation.
Refer to the FDA's guidance on software in medical devices and utilize IEC 62304, a recognized standard that outlines the medical device software lifecycle, incorporating a risk-based approach.
Section 17 – Electromagnetic Compatibility and Electrical Safety
---
Assess and document how your device interacts with other electronic devices. This includes ensuring it does not cause or get affected by electromagnetic interference. Use IEC 60601-1-2 as a reference for EMC requirements and testing.
If your device has electrically powered components that are in patient contact, demonstrate their safety. Refer to IEC 60601-1 for general safety requirements, along with its amendments, to ensure compliance with safety standards.
The FDA Group recommends:
If non-applicability statements don't apply to your device, include a statement in your submission indicating this to avoid appearing incomplete.
For devices with software or electrical components, a thorough analysis of software functionality, risks, EMC, and electrical safety is crucial.
Leverage recognized international standards like IEC 62304 and IEC 60601-1-2 to guide your documentation and testing procedures.
Sections 18, 19 and 20: Performance testing
You're now approaching the final stages of your 510(k) submission, focusing on performance testing. This group is crucial as it substantiates the safety and effectiveness of your device through various testing methods
Section 18 – Performance Testing – Bench
---
This section typically encompasses the majority of your design verification and validation testing. It should include a comprehensive account of the bench testing conducted on your device.
Include detailed protocols, results, analysis, and conclusions from these tests. Bench testing often forms a significant portion of the evidence for your device's performance.
Section 19 – Performance Testing – Animal
---
Not all devices require animal testing. If it's relevant for your device, ensure you follow FDA guidance and potentially engage in a pre-submission process for feedback. Reference applicable guidance documents to understand specific animal testing requirements for your device category.
Section 20 – Performance Testing – Clinical
---
The FDA will consider alternatives to clinical studies if supported by adequate scientific rationale. If clinical testing is necessary, determine whether your study is of significant or non-significant risk, complying with the relevant FDA regulations (21 CFR Parts 50, 56, and 812).
The FDA Group recommends:
Each of these section should clearly outline the testing protocol, objectives, sample size, test methods, study endpoints, and pass/fail criteria.
Present results in a clear and concise manner. Avoid inserting raw data directly into the report; instead, include it in an appendix if necessary.
Follow design control requirements from 21 CFR Part 820.30. If you have been diligent with design controls, compiling these sections should be straightforward, involving the printing of existing test protocols and reports.
Final Steps Before Submission
Before submitting, use the RTA checklist provided by the FDA to ensure all elements of your submission are complete and correctly referenced. This step helps identify any missing components and facilitates the reviewer's job. Also, provide page numbers corresponding to each checklist item to assist the FDA reviewer in easily locating information.
Key Mistakes to Avoid in FDA 510(k) Submissions
Below, we identify the five most common challenges we see affect submissions and how to mitigate each of them from the start.
Using incorrect or outdated FDA templates
FDA forms and templates are subject to frequent updates to reflect regulatory changes or new requirements. Using outdated forms can lead to missing critical sections, leading to incomplete submissions.
Regularly check the FDA website for the latest versions of forms like the Medical Device User Fee Cover Sheet (Form FDA 3601) and Indications for Use Statement (Form 3381).
Discrepancies in repeated information
Information such as the Indication for Use Statement that appears multiple times in the application must be consistent. Any discrepancies, even minor, can result in the FDA flagging your application for inconsistency.
Utilize features in document management systems, where a change in one instance of repeated information automatically updates all occurrences. This not only ensures consistency but also saves significant time in manual cross-checking.
Failure to follow the 510(k) Submission Refusal To Accept Checklist
The RTA checklist is a critical tool the FDA uses for an initial review. Failure to comply with this checklist means your submission may be rejected without a substantial review. Integrate the completion of the RTA checklist into your preparation process. Address each item as you complete relevant sections of the submission.
Choosing the incorrect predicate device
Selecting an inappropriate predicate device can lead to issues in demonstrating substantial equivalence. The chosen predicate must closely align with your device in terms of intended use and technological characteristics.
Conduct thorough research using the FDA's device databases. Seek devices with similar functionalities, uses, and technologies. If in doubt, consider consulting with regulatory experts or utilizing FDA's pre-submission process for feedback on your choice.
Skipping not applicable sections
Leaving sections that do not apply to your device blank may give an impression of incompleteness. For each section that is not applicable, include a brief statement clarifying why it does not apply to your device. This demonstrates to the FDA that you have considered each aspect of the submission. Software tools that automatically insert these statements can streamline this process.
Get rapid access to the industry's best 510(k) consultants and move your product to market
FDA clearance is critical for the market success of your medical device. At The FDA Group, we help you move through the 510(k) submission process quickly and efficiently. Our regulatory affairs professionals have extensive experience and knowledge, with some having worked directly with and within FDA.

We carefully deploy time-tested best practices during each step of the regulatory process, helping you maximize the likelihood of obtaining market clearance without delay. Our deep bench of regulatory experts covers every dimension of expertise required to make the 510(k) clearance a success, no matter where you are in the process.

Each specific 510(k) consulting engagement is tailored precisely to your needs and can include, but is not limited to:
Regulatory strategy development — Assistance with determining the most appropriate regulatory pathway and the preparation of a comprehensive regulatory strategy.
Review and analysis of the device and its predicate — Determining the device's classification and the applicable predicate device(s).
Preparation of 510(k) submissions — Writing and compiling the 510(k) submission.
Interaction with the FDA — Facilitating communication with FDA, including responding to agency questions and requests for additional information.
Support throughout the review process — Monitoring the review status, providing guidance and support throughout the review process, and managing any necessary post-submission activities.
Post-clearance support — Providing ongoing regulatory support for post-approval changes, periodic reporting, and maintenance of device marketing clearance.
Learn more about our services and contact us today to take the first step toward bringing your product to market quickly and efficiently.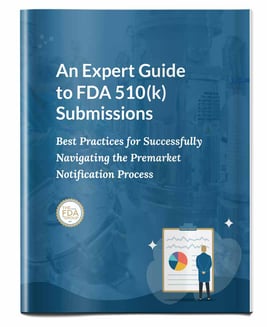 FREE GUIDE

An Expert Guide to FDA 510(k) Submissions
Download our free white paper and get the best practices you need to successfully navigate the premarket notification process.