In a November 3 article, Pink Sheet reported that just a day earlier, deputy director of FDA's Office of Policy for Pharmaceutical Quality, Brian Hasselbalch announced during an IPAC-RS virtual roundtable that the agency was developing industry guidance in support of a move to virtual good manufacturing practice (GMP) inspections for drug manufacturers during the pandemic.
According to the report, the guidance will specifically address "remote evaluations using interactive video or other types of interactive tools and techniques."
The guidance is expected to lay out what the industry should expect from FDA investigators, as well as what the agency expects from those they inspect. Hasselbalch reportedly informed roundtable participants that the guidance would affect decision-making for pending applications, as well as "surveillance activity and maybe for-cause types of evaluations and BIMO program work."
"Be ready with live streaming video as an option."
Also during the roundtable, Hasselbalch reportedly advised manufacturers to have the necessary technological capabilities in place for interactive video conferencing if they've submitted or plan to submit applications that are likely to necessitate an inspection, such as new facilities, facilities that have been subject to operational or control changes, or other situations that would require a pre-approval inspection.

While there was reportedly no mention of specific tools or systems regulators suggest the industry adopt to facilitate remote inspections, Hasselbalch suggested that tools companies use would need to allow regulators to connect remotely and facilitate moving facility and operations reviews as well as record reviews.

Importantly, Hasselbalch highlighted that a remote inspection will enable FDA to have larger review teams involved compared to in-person inspections. Companies could "expect to see more expertise" present in these remote inspections than a traditional physical site visit.
How to Begin Preparing for Possible Remote FDA Inspections
While the industry awaits the FDA's forthcoming guidance on its remote inspection plan, quality and compliance teams can begin proactively taking steps to prepare accordingly.

Here are just a few suggested tips based on our experience conducting remote audits.

1. Prepare your IT service environment.
The technical components of a remote audit can be fraught with IT issues that may not be apparent, such as available bandwidth throughout a facility (for virtual walkthroughs), firewalls, software limitations, and security risks.
As such, IT resources should be included in the planning process to identify potential problems in the project plan and make any necessary policy or technical adjustments to accommodate for potential virtual visitors.
2. Invest in high-quality A/V equipment and systems.
Noisy environments and the limitations of older or low-quality AV equipment can make real-time communication and peripheral observations difficult, if not impossible.
Given the strong likelihood that regulators will conduct their remote inspections in real time, it's important to be prepared with high-quality camera and audio equipment to make real-time virtual facility tours both possible and efficient.
Be sure to dry run your technology throughout your facility to ensure connectivity doesn't pose problems. Strive to make the virtual experience as close to an in-person one as possible.
3. Make documents easy to access and share remotely upon request.
Many facilities are organized to make documents easy to find and reference on site. It may take more time to prepare and upload documents to a platform suitable for sharing materials with investigators versus paper record storage organizers or digital database storage.
Carefully determine how and how long it will take to convert your documentation into a reviewable file format and make them available for viewing. They should be quickly retrievable without a need to scan or otherwise process into viewable formats.
Make sure you can share documentation in standard file formats and types.
Have file conversion capabilities on-hand in case documents need to be printed, scanned, copied, and shared.
4. Update your inspection "war room" materials.
Whether it's an inspection binder or other type of document organizer, make sure you're prepared to field all submission requests virtually.
Every document must be cross-referenced to any electronic file to ensure records are complete. Make it very clear which assets relate to which requests.
The Heightened Importance of a Mock Audit
Mock FDA audits are an essential assurance activity for "dry-running" an inspection and identifying and remediating issues before they're detected by the FDA. These audits can be performed by an internal team using FDA procedures, or, ideally, by an external team of former FDA employees serving as outside consultants.

Given the unique challenges and requirements of remote assessment, an experienced third-party auditing consultant can be invaluable in preparing for remote audits and inspections. As we cover in another article exploring mock audits more in-depth, information provided by mock FDA audits gives quality and compliance teams the ability to:
Obtain evidence that management is overseeing operations effectively;
Review the compliance of contract service providers;
Verify that quality assurance and regulatory affairs departments are operating appropriately;
Evaluate process controls, records, and document controls; and
Determine whether the mechanisms are compliant.
We routinely help manufacturers in the FDA-regulated life science industries conduct mock GMP, GCP, and GLP audits in a number of specific applications, both on-site and remotely. Learn more about our auditing services and connect with us to schedule a mock audit.

Want to dive deeper into planning and hosting remote audits? Grab our free guide below, packed with expert advice and a series of steps quality and compliance teams can take to fully prepare for remote or virtual audits.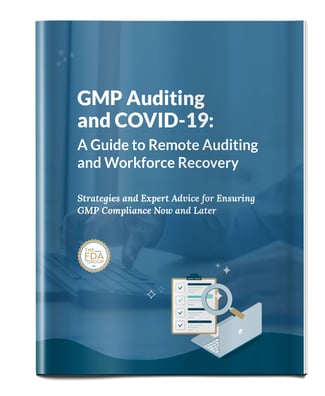 FREE WHITE PAPER
GMP Auditing and COVID-19: A Guide to Remote Auditing and Workforce Recovery
Learn the challenges of remote auditing get strategies and best practices for overcoming them throughout each phase of the assessment process. This guide offers a playbook you can use to plan and host a successful remote audit.