If your time is short:
Make FDA inspection procedures clear and concise.
Make key documents & records easily accessible in an inspection-ready binder.
Label items for fast retrieval.
Compile product complaints and CAPAs since your last inspection.
Report all corrections/recalls & keep documentation current.
Run mock FDA inspections to ensure preparedness.
Sooner or later, an FDA investigator will walk through your door, greet the receptionist and wait patiently for the leadership team to meet them in the lobby. The call goes out that FDA is in the building and your inspection procedures snap into action.

After learning an investigator has arrived, one of two feelings will strike you. For the prepared, it's calm excitement. You can finally put your preparation to work, impressing the inspector with your initiative.
For the unprepared, it's panic. You always intended to prepare for this, but never got around to actually doing it. You frantically call down to various offices to relay the news, desperately hoping the I's are dotted and T's are crossed.

This quick guide is designed to prevent this second scenario from becoming a frightening reality. While you may have the luxury of having a few days or weeks to prepare if FDA decides to announce an inspection ahead of time, this doesn't always happen.
Companies need to be prepared for all possibilities. Here are six ways to make sure you are:
1. Make FDA Inspection Procedures Clear & Concise

Don't obfuscate what should be a clear list of dos and don'ts with complicated, hard-to-follow procedural language.
Boil it down to the essentials such as:

"When asked a question by the investigator, answer only the question asked of you."

"If you don't know the answer to a question, don't guess. Inform the investigator that you don't know, but will find out for them."

"If an issue arises, don't attempt to quickly resolve it in front of the investigator."
Assigning clear responsibilities requires clear communication. To ensure personnel aren't scratching their heads after reading through the procedure, check-in with them to learn how they've interpreted them.
If misunderstood responsibilities become a common pattern, chances are the procedures themselves are to blame.
2. Make Key Documents & Records Easily Accessible in an Inspection-Ready Binder
FDA inspections can span days, and in extreme cases, weeks or months depending on a facility's size, the nature of the inspection, and complications that arise if issues are discovered.
Preparation ahead of time can help move the process along as fast as possible. In particular, make sure all basic information you know inspectors will need is available at all times in a central location or "war room."

Read Also: 5 Items to Stock in Your FDA Inspection War Room

Typically, an inspection binder is the most convenient way to compile and present information to investigators.
No matter what type of inspection it is, here's what you should be prepared to provide when asked:

Important procedures related to document/change controls, complaint handling, CAPA, etc.

Quality system overview including a Quality Manual if applicable

Organizational charts & tables

Job/role descriptions and training protocol/records

Device listings

Responsibility matrices

Since it's very likely the investigator will want to see more than just the materials you've prepared (especially if observations are noted during the inspection), try to copy and catalog quality-related documents and records for quick reference.
The point here is to avoid making the investigator wait unreasonably long to see a document they request. Delays are more than just annoying—they can suggest you're either trying to hide something or a more general sense of disorganization.
3. Label Items for Fast Retrieval
Investigators will most likely inform you of the products, processes and/or clinical programs they plan to evaluate before they begin. Marketing materials will likely be included in their document requests. Organize these materials in such a way that helps you retrieve them when asked to.
As a particularly hot area of regulatory compliance, be sure those who should know about these items are completely prepared to answer questions.
Expect investigators to test your staff to ensure they're knowledgeable about the product and FDA expectations.
4. Compile Product Complaints and CAPAs Since Your Last Inspection
This is a common request from investigators, so it plays in your favor to be ready for it ahead of time.
Designate someone who can clearly and completely explain the complaints as well as the process in place to handle them. For those handling complaints electronically, you'll likely be expected to offer electronic information regarding them.
While you may be asked for more specific information, prepare the basics first: name, product, date of receipt, is it MDR-reportable and a summary of the issue(s) cited.

5. Report All Corrections/Recalls & Keep Documentation Current
Companies that have reported corrections/recalls will be asked for documentation to support Part 806.10. If any have gone unreported, expect investigators to want documentation in support of Part 806.20 and a compelling reason why it hasn't been reported.
Expect investigators to want to examine CAPA and risk management systems as well as your recall processes.
Remember that every recall requires a CAPA. Make sure these are comprehensive and accessible during the inspection.

6. Run Mock FDA Inspections to Ensure Preparedness

Mock FDA inspections are one of the best ways to shore up your ability to engage investigators when the time comes. While these are sometimes performed internally, it's best to bring in an unbiased professional who can accurately replicate the real thing.
Read Also: A Basic Guide to FDA Mock Audits
Our consultants span a wide range of industry expertise and former FDA experience. If you're interested in implementing a professional mock FDA audit, contact us today to discuss an audit program tailored to your company's needs.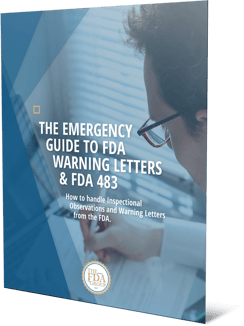 Want to learn everything you need to know to properly handle an FDA warning letters? Grab our free white paper, The Emergency Guide to FDA Warning Letters & FDA 483.