The Good Manufacturing Practice (GMP) audit is among the most critical pieces of your company's ability to manufacture and distribute a regulated product, including pharmaceuticals, medical devices, food, etc.
A comprehensive and well-executed GMP audit provides a big picture look at how well your organization is complying with GMP regulations, and it also shows you in fine detail where your company needs to improve. It's a systematic review of your facility's operations to determine if you're meeting all of the requirements set forth by GMP regulations.
For this reason, preparing for an audit can be nerve-wracking, and the audit itself can be intimidating. However, if you follow these steps, you'll find that the entire process goes much more smoothly.
What is a GMP Audit?
A GMP audit is a process by which an external or internal individual or team verifies that a manufacturer is following its documented Good Manufacturing Practices.
It's similar to an audit in accounting or finance, except that the auditor is inspecting production processes for their adherence to quality control guidelines instead of financial records or data. The ultimate goal of a GMP audit is to ensure that products are safe for use, and produced consistently so they meet customer expectations (for example, the same product should look and operate the same every time).
Audits can be conducted by private companies or government bodies—but either way, it's important for manufacturers to understand how audits work and what they mean for your business.
The quality systems approach in GMP includes the coordination of 5 subsystems—all or any of which should be subject to assessment during an audit:
Production
Materials
Facilities and Equipment
Packaging/labeling
Laboratory Controls
Need help conducting GMP audits? Our quality professionals bring direct experience in pharmaceutical, biotechnology, combination, and medical device development and manufacturing to help you understand and address quality assurance needs at every stage of product development. We resource auditing programs for pharma, biotech, medical device, and other FDA-regulated organizations around the globe → GMP Auditing Services
What is Involved in the GMP Audit Process?
Here are the general motions of a typical GMP audit at a very high level:
The auditor plans the audit.
The auditor completes the opening meeting.
The auditor collects facts and evidence by reviewing documents and records, interviewing personnel, making firsthand observations, etc.
The auditor documents relevant information during their investigation into your organization's systems and procedures for ensuring GMP compliance (e.g., manufacturing records).
The auditor prepares a written report at the end of every phase of their investigation into your organization's GMP-related systems and procedures which, includes findings from each step in their process.
In the first phase, auditors collect necessary information on site or remotely through interviews with employees who work there (e.g., management or staff). They also examine records (e.g., checklists) that have been previously compiled by operators in their daily work activities (e.g., batch record sheets). Then they plan and conduct audits based on their findings during their initial assessment activities—this is called "audit planning".
The second phase of the audit involves documentation of observations made during visits; collection of supporting documentation such as documents or records; interviewing individuals involved with specific processes requiring more detailed descriptions than those found on standard operating procedures; reviewing batch data generated from manufacturing operations; observing physical evidence related to critical control points such as product stability testing results, and a number of other key observation and assessment activities.
The resulting audit report should be clear, concise, and easy to understand. It should include a summary of findings, recommendations for corrective action, a list of nonconformancesm and other observations.
How to Prepare for a Typical GMP Audit
There are several ways in which life-science leaders can prepare for internal or external audits.
First, it's always helpful to start by

reviewing past audit and FDA inspection results

. This includes activities of all operations that the organization has outsourced. SOPs that are relevant to the chosen audit subject(s) should also be reviewed. Leaders can make the best use of valuable time and resources by setting up a specific agenda that includes timelines and necessary personnel.
Teams should also perform a pre-audit check with all team members to make sure they are prepared for their role on the day of the actual audit. This includes double checking that contracts and other documentation are ready as well as making sure equipment (such as computers) have been tested and brought online before auditors arrive at your facility for their visit.
Here are some additional quick tips for preparing for a GMP audit (contact us if you need more information about this):
Make sure you have a list of all the documents subject to assessment during the audit. Make sure they're easy to access so you don't have to go searching for them during the audit.
Have a checklist of everything needed for GMP compliance in your facility at all times. For example, checklists for equipment maintenance and cleaning schedules can be very helpful in ensuring that everything is up-to-date and working correctly at all times so as not to cause any confusion during an audit or inspection.
Make sure that everyone who works for your company is familiar with GMP expectations. Here are some of the most important resources:

21 CFR Part 314 — for FDA approval to market a new drug
21 CFR Part 210 — Current Good Manufacturing Practice in Manufacturing Processing, packing, or Holding of Drugs
21 CFR Part 211 — Current Good Manufacturing Practice for Finished Pharmaceuticals
21 CFR Part 212 — Current Good Manufacturing Practice for Positron Emission Tomography Drugs
21 CFR Part 600 — Biological Products: General.
Tips for Hosting a GMP Audit
When hosting a GMP audit:
Make sure you have all the right documentation. Your company must have all of its official documents in order and be able to present them on request. If there are any changes or additions that need to be made prior to the audit's arrival (in case anything happens), these can then be taken care of as well so there aren't any surprises later on during inspection time.
Make sure there will be someone available at all times during this process as well as some good facilities in place where both parties can work comfortably. This avoids any unnecessary stress being felt by either side that could lead towards miscommunication issues down the road.
Make sure your "war room" is stocked with what you need. This includes, but is by no means limited to, an organizational chart, facility layout, Quality System Manual, SOPs, and Staff Training Documenation.
Go deeper: 5 Items to Stock in Your FDA Inspection War Room
Common Mistakes Made During GMP Audits
Not being prepared for the audit.
Not understanding the GMP regulations and audit process.
Not having all of your documentation in order.
Having the wrong people present during the audit.
Having the wrong equipment available for testing (for example, not being able to test a product because you don't have proper testing equipment on hand).
This list goes on and on. Having planned and executed thousands of audits for FDA-regulated companies, we know the common mistakes and pitfalls inside and out. Contact us to learn more about proper preparation.
A Few GMP Auditing Best Practices
Make sure your staff is aware of the audit.
Ensure that your staff has the necessary training and preparation for the audit.
Ensure that your staff is ready for the audit. If you don't have a regular team meeting, try to schedule one before any assessment or inspection so everyone knows what to expect and how to prepare for it.
Know what's expected of them during an inspection so they are prepared when things go wrong (which they always do).
Final Thoughts and Next Steps
GMP audits are an important part of the manufacturing process and Quality program more generally. They provide assurance to customers and regulators alike that products meet quality standards, safety requirements, and all other regulations in place at the time of manufacture.
A GMP audit can be a nerve-wracking experience, but it shouldn't be. By following best practices, being thoughtful about how you prepare, and working with qualified auditing professionals, you can make sure that your company's next GMP audit goes smoothly—and more importantly—be confident in your state of compliance.
FDA inspections in GCP, GLP, and GMP are critical for the successful achievement of maximum safety and effectiveness of pharmaceuticals, medical devices, and other medical products. Be that as it may, for industry leaders, it is a daunting and seemingly unending process.
The FDA Group has a proven track record in facilitating success for numerous life-science organizations. Such a partnership can assure high-quality product research and manufacturing, and most important, public safety. Learn more about our auditing services here.
Contact us to learn more and get the conversation started, download our free white paper and case study (below).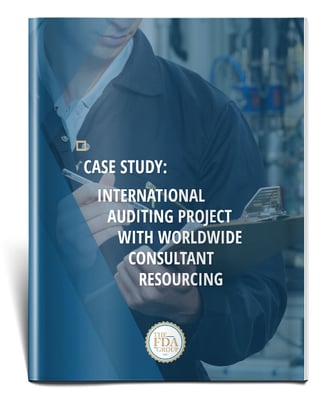 FREE CASE STUDY
International Auditing Project with Worldwide Consultant Resourcing
Learn how The FDA Group partnered with a healthcare product Company to support a series of international Quality Audits to assess both Good Manufacturing Practices (GMP) and Good Clinical Practices (GCP) throughout the United States, Europe, Asia, and the Middle East.
---
Learn how we help life science organizations perform detailed audits in all of these areas to identify current and potential problems, recommend corrective and preventive actions, and work closely with internal staff to implement improvements: Auditing Services.