The greatest resource of any life sciences organization is human capital. As any leader responsible for at least part of the hiring process knows, the challenges of attracting, retaining, and managing a right-fit workforce can be monumental.
At present, ever-changing workforce needs are fulfilled in a variety of ways, depending on type of work needed, required skill-set, and length of specific project. Most of the time, talent is obtained via outsourcing, self-sourcing, or insourcing.
Here, we identify and briefly unpack five reasons why insourcing has become an increasingly popular workforce model for gaining a major competitive advantage in the competitive life science labor environment.
Outsourcing vs. Insourcing vs. Self-Sourcing: A Brief Overview
Outsourcing involves the contracting out of specific functions. In the life sciences, the outsourcing model typically lends itself to project-based work. "Projects" can vary wildly in size and complexity, from large-scale clinical trials to routine auditing. The contracting organization controls work tasks, project objectives, and deliverables. They often operate on a fee-for-service model.
Self-sourcing, on the other hand, is the process of using internal human resources staff to advertise, manage applications, etc., for potential direct-hires.
Insourcing is the process of using a third-party staffing firm either through traditional direct hires or through contingency (temporary) arrangements.
Over roughly the last decade, business leaders have been taking a renewed interest in insourcing practices. In a Deloitte survey comparing outsourcing and insourcing, 48% of business executives reported actually terminating outsourcing agreements due to cause or convenience.
Although internal quality managers take pains to solidify quality-related agreements with outsourced organizations, breakdowns sadly occur. As any life science executive knows, such breakdowns could lead to numerous medical mistakes, underreported drug side effects, or worse.
Why Insourcing?
Insourcing strikes a delicate but powerful balance between the complete in-house activity of searching for, hiring, and managing employees; and external outreach for specialized 'niche' services.
It is particularly beneficial for pharmaceutical, medical device, diagnostic, and other regulated life science spaces where variable specialized talent is always in high demand. Insourcing with a third-party resourcing firm can facilitate the on-boarding of traditional hires as well as shorter-term project-specific arrangements.
At The FDA Group, we help life science organizations discover at least five advantages of talent insourcing, which we've identified below.
1. Greater Agility and Flexibility
Business expansion and reduction cycles are becoming progressively more rapid. This necessitates increased agility to respond accordingly. Often, certain restrictions in outsourcing contracts can slow down necessary time-sensitive procedures—a problem PwC India unpacked in its pitch for insourcing here.
Insourcing a contingent workforce gives companies the ability to scale projects up or down quickly as needed—all without affecting the head count of the core staff.
The need for flexibility in human resources models is another driver towards insourcing. This need is particularly salient in the drug development and medical device industries, where companies must respond to the discoveries of their competitors, as well as nurture their own innovations, all within a tightening labor environment.
2. Opportunities for Overall Cost Reduction
Over the past 10 years, many blockbuster drugs went off-patent. This created a serious challenge for pharmaceutical manufactures that now need to get drugs to market at a much faster pace. Hold-ups in product launch can seriously impact revenues. With as little as a one-month delay, a $150 million product can, as one executive explained, result in as much as a $12 million decrease in final sales.
It used to be assumed that outsourcing was the critical pathway to cost-effectiveness. The outsourcing organization took all the responsibilities as per the contract agreement with the sponsoring organization.
Many companies had indeed cited cost as an impetus for outsourcing. However numerous organizations found that cost factors accrued exponentially when problems were identified due to poor quality of the outsource. Other cost-drivers included 'scope creep' or change orders.
3. Quality Assurance
The IT industry offers a real-world case study in how the ills of pervasive "over-outsourcing" has led to a rebound of insourcing, with positive results. As cited by Deloitte in its 2013 IT insourcing report, a whopping 79% were either satisfied or extremely satisfied with the change.
As any good manager knows, quality is a major driver in the pharmaceutical or any other health-related industry. Quality problems can lead to numerous issues that may unfortunately fall into the lap of the sponsoring organization.
Multiple issues have been noted when sponsoring organizations have purely outsourced regulatory affairs functions. Many of these issues can have a direct negative impact on quality assurance. They include:
Difficulties monitoring CRO performance
Difficulties in evaluating CRO performance
Compromised flow of information between sponsoring company and CRO
Misalignment of shared vision and/or objectives
The main drivers of quality assurance, particularly in life sciences manufacturing, is human capital and right-fit skills.
Industry leaders are keenly aware of the challenges in attracting and retaining top-quality staff. According to a report published by the Coalition of State Bioscience Institutes (CSBI), regulatory affairs and compliance positions remain those hardest to fill.
At The FDA Group, we seek to offer a genuine workforce solution to these challenges by fulfilling these critical resource needs through flexible, convenient staff augmentation and recruitment models. Hiring managers procure the appropriate staff either as direct hires or for project specific functions through a contingent staffing arrangement.
4. Collaboration and Knowledge Sharing
An interesting research study published in 2018 investigated how insourcing might be related to social capital and knowledge sharing. It compared social capital and knowledge sharing activities within and between firms.
Results indicated that that knowledge sharing and social capital are stronger when employees were in captive sourcing relationships. It also suggested that trust plays an important role in knowledge sharing and social capital. Insourcing, then, can lay a healthy foundation of knowledge sharing, creating environment of productivity and trust.
Over the past decade, companies around the world have come to notice the benefits of insourcing as a facet of economic recovery. Companies see insourcing as a way to retain core competencies within the organization, with one paper offering a salient point in its abstract:
"In the face of world economic crisis, it is worth considering 'what changes in thinking are needed to revive the global economy?' Traditional management methods have already lost much of their potential. Keeping the compliance of job category with human nature is an important factor supported by insourcing."
Healthy and positive communication, along with employee engagement and satisfaction, play an integral role in collaboration and knowledge sharing.
Activities focused on insourcing of direct hires or temporary contingent staff nurtures these affirmative attributes. Employees are more apt to collaborate with one another, share ideas, and be supportive. With targeted, efficient, and considerate insourcing strategies, employees feel more supported and appreciated. The ultimate result is improved and preserved employee loyalty.
5. Control of Critical Functions and Skill Sets
Life science industry leaders are rightfully concerned about compromising or losing critical skill sets within the company. Scientific research, development, and innovation will always be of high importance to the surviving and thriving of the organization.
Insourcing enables organizations to maintain control of processes and communications. In some cases, executives cite the improvement of control as a critical driver in the decision to pursue insourcing arrangements in the first place. One study reported that 77% of executives cited increased control as a rationale for insourcing.
Depending on the industry, regulatory scrutiny is high on the list of concerns. Virtually any organization that must comply with regulatory oversight will want to have control of critical functions.
Some research also supports concerns by industry leaders on the loss of employee skill sets that may hamper future projects and functions. Executives, human resources professionals, and managers are subsequently shouldered with the burden of re-imagining of tasks and re-working of other assignments.
The FDA Group serves to search and place contingent or direct-hire staff that will accommodate managerial control of both critical processes as well as skill sets of qualified life-science personnel.

Summary and Next Steps
This article provides an evidence-based rationale for the high value of insourcing strategies to meet and exceed objectives in life sciences manufacturing.
A productive and trusting relationship with a specialty life sciences staffing firm will undoubtedly lead to:
Cost-effectiveness
Excellent quality of products and services
Successful control of valuable resources
Flexibility in navigating quick changes
Engaged, enthusiastic internal staff
Although outsourcing and self-sourcing have lasting utility in the life sciences industry, insourcing is undoubtedly growing to become a genuine solution to the specific challenges and pressures that animate the life science industry—both now and in the future.
Connect with perfect-match life science resources.
Need a trusted insourcing partner for getting roles filled quickly and reliably? We partner with thousands of life science companies, including 17 of the top 25 pharmaceutical, device, and biotech manufacturers, to streamline the search and hiring process for both FTE and full-time consultant (FTC) staffing.
We specialize in the entire range of the recruiting process, giving you a breadth of resources and expertise that has become increasingly hard to find in the life science industry.
Tap into our extensive network of life science resources who can ensure your project or program is completed effectively and efficiently through our convenient staff augmentation model or direct hire recruitment. Tell us about your resource need and we will augment or recruit your staff with exactly who you need, when you need them, guaranteed.
Learn more about our insourcing services in each of our functional areas:
Read our case study below for a real-world success story of our resourcing services in action. Want to learn more about our insourcing capabilities and get fast, reliable access to top talent? Get in touch with us today.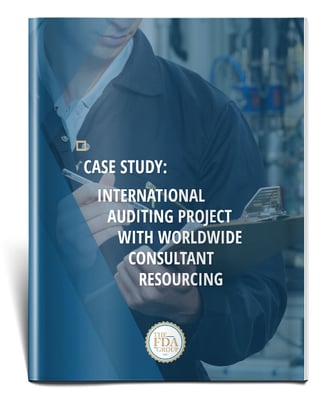 FREE CASE STUDY
International Auditing Project with Worldwide Consultant Resourcing
Learn how The FDA Group partnered with a healthcare product Company to support a series of international Quality Audits to assess both Good Manufacturing Practices (GMP) and Good Clinical Practices (GCP) throughout the United States, Europe, Asia, and the Middle East.