From FY2018 - FY2022, 21 CFR 211.22(d) was the second most commonly cited regulation appearing in FDA Warning Letters to drug firms (as analyzed by the FDA's publically available dataset.)
"21 CFR 211.22(d) — Quality control unit procedures (written and followed)" appeared a total of 525 times in Warning Letters throughout that time.
We gathered and analyzed the FDA Data Dashboard inspection data to identify the top four trending drug and device cGMP issues cited in recent inspection observations.
Then, with the help of Neal Siegel, PhD, a Quality/Regulatory consultant who's spent over 25 years seeing and solving quality management issues in organizations large and small, we identified some of the firsthand observations of how these issues typically arise in production facilities and labs—with tips for detecting, fixing, and avoiding them.

Watch an excerpt of this presentation below and access the full webinar recording here.



This guide explores 21 CFR 211.22(d) in particular.
We cover:
If you find Neal's advice helpful, you can watch his free presentation on this subject and many other trending problem areas in our free recorded webinar you can watch here. You may also want to grab his guide to remote auditing, which you find here.
Need expert assistance acting on any of the advice this guide presents? Contact us to connect with the consultant, contractor, or candidate you need to get the job done right the first time.
What is 21 CFR 211.22(d)?
First, let's put the regulation in front of us right from the US Code of Federal Regulations Title 21 Section 211.22 (via fda.gov):
PART 211 — CURRENT GOOD MANUFACTURING PRACTICE FOR FINISHED PHARMACEUTICALS
Subpart B - Organization and Personnel

Sec. 211.22 Responsibilities of quality control unit.

(a) There shall be a quality control unit that shall have the responsibility and authority to approve or reject all components, drug product containers, closures, in-process materials, packaging material, labeling, and drug products, and the authority to review production records to assure that no errors have occurred or, if errors have occurred, that they have been fully investigated. The quality control unit shall be responsible for approving or rejecting drug products manufactured, processed, packed, or held under contract by another company.

(b) Adequate laboratory facilities for the testing and approval (or rejection) of components, drug product containers, closures, packaging materials, in-process materials, and drug products shall be available to the quality control unit.

(c) The quality control unit shall have the responsibility for approving or rejecting all procedures or specifications impacting on the identity, strength, quality, and purity of the drug product.

(d) The responsibilities and procedures applicable to the quality control unit shall be in writing; such written procedures shall be followed.
FDA typically classifies deficiencies with 21 CFR 211.22(d) as some kind of problem with the responsibilities and procedures applicable to the quality control unit not being documented and/or followed.

A few common examples of specific observations appearing in Warning Letters include lines like:
Your quality unit (QU) did not provide adequate oversight for the manufacture of your drug products. For example, your QU failed to ensure ... Adequate procedures describing roles and responsibilities of the QU, including the handling of vendor qualification, batch release, reserve samples, complaints, change management, process validation, equipment cleaning, and CGMP training (21 CFR 211.22(a) and (d)). (

Source)

---

Your Quality Unit (QU) lacked control over your topical over-the-counter drug manufacturing operations and failed to ensure that you had adequate procedures. For example, your QU failed to:





— Evaluate product quality before batch release. Your firm obtained out-of-specification (OOS) camphor assay release testing results and then sent additional samples from these batches to your contract testing laboratory until passing results were obtained. You reported the passing results and released these batches to the market without investigating release testing assay failures.





— Exercise adequate independent authority over manufacturing operations. Production staff interchangeably perform manufacturing activities and quality approval of manufacturing steps and batch release.





— Establish procedures describing critical oversight responsibilities including, but not limited to, the following: batch review and release, developing and assessing corrective and preventive actions, implementing change controls, and establishing the reliability of component supplier analyses. (

Source)

---

— Your QU also failed to ensure the following ... To establish adequate procedures describing investigations, nonconformances, deviations, out-of-specifications, change controls, complaints, rejects, and returns (21 CFR 211.22(d)). (Source)
Two Common Problems Observed in the Field
1. Pressure from leadership and/or a lack of communication and visibility into quality metrics challenges Quality's responsibility to approve or reject products
"The takeaway from 211.22 is that the Quality Unit is responsible for the quality of everything—the stuff coming in, the stuff going out, and the stuff in process. They're responsible for the procedures, specifications—everything regarding the manufacturing of the product. They also must be granted the authority to accept or reject anything at any time.

This is where I've seen companies run into problems. Upper management must grant and respect Quality's authority to carry out their responsibilities, even when that means it's decided that a product won't be manufactured that day.

When Quality is forced to be seen as the bad guy, there's almost always a lack of effective communication undermining these relationships."
— Neil Siegel, Industry Consultant, The FDA Group
Expert tip:
"Effective communication is a buzzword, but organizations that respect the authority of their Quality team make it really mean something. The organizations I see with the best relationships between Quality and upper management dedicate themselves to proactive communication.

If the run multiple shifts a day, the first shift will have a Quality status board—a physical or digital bulletin board where they relate any issues observed during their day on the job. This board is handed off to the Quality team in preparation for the next shift.

Teams hold a check-in before the start of each shift where the board is put up and discussed. Management can come down (or log in) to be a part of these conversations and are encouraged to do so. The idea here is that cross-functional Quality review is simply made part of the daily routine without being perceived as burdensome.

Observations can be shared and proactively handled quickly while Quality trends are clear to everyone. I advise every team to make the necessary investments in reporting tools, processes, and simple routines that replace contentiousness with an attitude of collaboration and respect."
— Neil Siegel, Industry Consultant, The FDA Group
2. Misuse of Statistical Process Control (SPC)
"Simply put, some teams don't devote the diligence that proper use of SPC might demand, and therefore lose out on its value. That value isn't just the tangible output of doing SPC.

It's also the intangible advantage of being able to look at objective data and problem-solve from it. Too often, without this data, a team that discovers a problem immediately starts pointing fingers and damaging critical relationships."
— Neil Siegel, Industry Consultant, The FDA Group
Expert tip:
Statistical process control, when appropriately applied, can tell you early on that you're starting to see a trend or a problem. If you use the proper run rules, you can probably figure out how to respond to the issue that's occurring, before it becomes a problem and before you pass outside of the acceptance limits for your product and start failing.

This is why SPC was developed in the first place. Yes, you have to collect the data and that takes time. But the investment always pays off. Production can come to Quality and say, 'I just went over the SPC and we're missing a couple of run rules here. What do you think that means?'

Quality should be able to do the same thing to Production and say, 'You know, I'm just looking at the data and it's telling me there may be an issue, what do you think it means?' rather than pointing a finger and starting with the presumption of blame."
— Neil Siegel, Industry Consultant, The FDA Group
Common Signals of a Larger Quality System Problem
In addition to some of the acute red flags that we commonly observe in the field outlined above, there are a few things that can signal that there's a deeper quality system problem at the root:
A lack of active communication leads to avoidable surprises
A lack of investment in tools like SPC
Output from SPC fails to turn into insights that can be acted upon
📋 Action items at a glance
---
Put "effective communication" into practice. Make Quality data accessible and inviting for management via physical or (ideally) digital dashboards that make for convenient check-ins and can be accessed at any time.
Be clear and concise about what you're writing down. Schedule regular check-ins/reviews where recent observations can be compared against trending issues and addressed proactively.
Use statistical process control appropriately. Organize workshops on the importance and correct application of SPC. Ensure that all relevant personnel understand the principles and can apply them correctly. Also, consider setting up a dedicated team or individual responsible for analyzing the SPC data. This team or person should be equipped with the necessary tools and software to detect trends and anomalies. Establish a feedback mechanism where the Quality team can communicate potential issues spotted through SPC to the Production team. This should be a collaborative discussion rather than a blame game. Organize monthly or quarterly SPC data reviews to identify improvement areas and celebrate successes.
Steering Clear of Compliance Issues Amid a Potential Increase in FDA Oversight and Enforcement
With pressure mounting on the FDA to address its pandemic-induced inspection backlog, oversight and enforcement activities will likely increase in the coming years. Companies should expect the FDA's previous focus on trending issues, such as supply chain, data integrity, and cGMP compliance to continue—perhaps with even more force.
Zooming out to look at approaching regulatory compliance more broadly, it's important to acknowledge that even the most frequently cited compliance issues rarely result from a willful refusal to adhere to, for example, cGMP.
Many if not most Form 483 inspectional observations result from something simply being overlooked—lost in the endless list of priorities competing for our finite time and attention. It's a lab manager forgetting to review a maintenance record after a week off. It's a production technician losing the newly-updated SOP and using an older copy at the workstation. It's a rushed sign-off that didn't follow from a rigorous review.
The flawed workflows, poor collaboration, and human errors that give rise to noncompliance issues can often be avoided through a robust, well-maintained QMS—the foundation of a truly quality-driven operation. Developing an outstanding QMS, however, can require a significant and ongoing heavy lift—not to mention routine objective assessments that reveal blindspots and unrealized opportunities for continual improvement.
Quality teams are often stretched too thin to give their QMS the proactive attention it deserves. On top of this, the cyclical, non-constant nature of these projects may not be best suited to a traditional full-time employee or group.
Join the thousands of life science companies accessing top talent and executing their projects with The FDA Group.
Here at The FDA Group, we developed three engagement models to help life science teams (and the hiring managers within them) overcome this challenge specifically—occupying the space between a traditional consulting firm and a staffing agency.
In addition to providing traditional consulting and FTE recruitment services, we also provide staff augmentation services as a convenient, flexible alternative that often better reflects the cyclical or project-based resource demand while infusing new skills and experiences into a team either on-site or remotely.
The FDA Group helps life science organizations—including 17 of the top 25 top pharmaceutical, medical device, and biotech manufacturers—rapidly access the industry's best consultants, contractors, and candidates. Our resources assist in every stage of the product lifecycle, from clinical development to commercialization, with a focus in Quality Assurance, Regulatory Affairs, and Clinical Operations.
Whether you're looking for consulting or project support, full-time contract, contract-to-hire, or direct-hire talent, we identify the right resource, the first time.
Get in touch with us to learn more about our services and craft a resourcing solution fit for you and watch our free webinar to learn more about CFR 211.22(d) compliance and other common problem areas.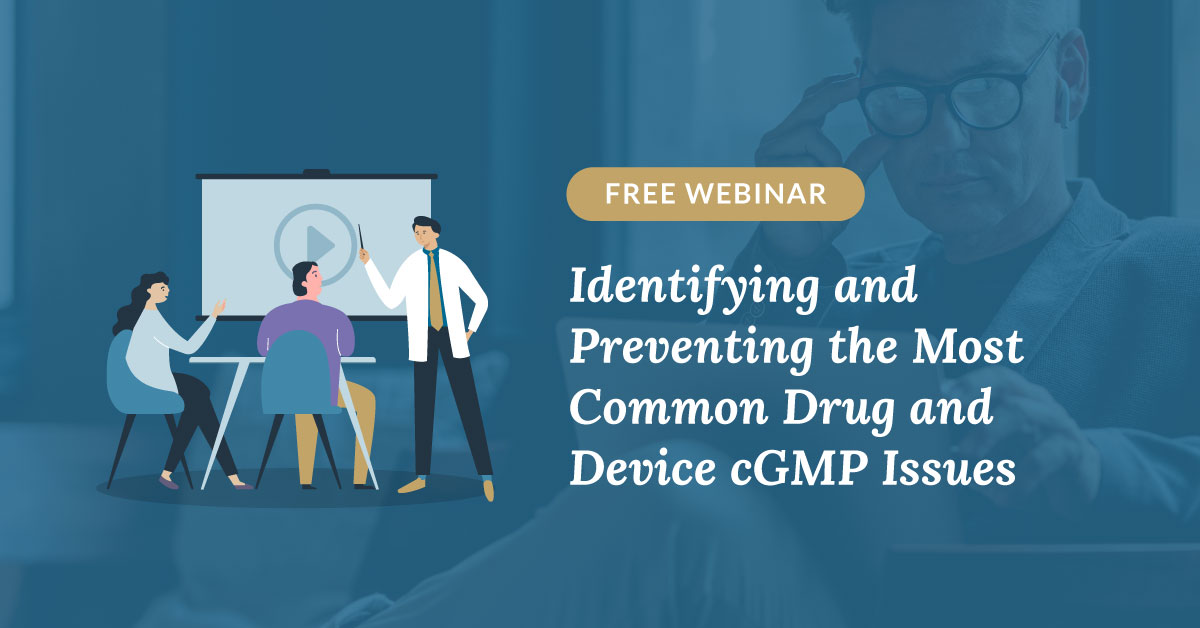 The FDA is under intense pressure to ramp up inspections and enforcement activity. Are you prepared? Watch this special free two-hour event and learn how to detect and prevent the drug and device cGMP issues cited most frequently over the past few years.
---

FREE WHITE PAPER
Gap Analysis Remediation: A Guide to Resourcing & Implementation

Get an expert strategy for planning the resources you need to make remediation successful. Learn where life science quality departments get stuck, the signals of resource-heavy work, models for implementation, and more.