Process validation was founded on the acknowledgment that one-time testing of a final drug product is not enough to assure public safety and high-quality patient care.
In 2011, the FDA released Guidance for Industry Process Validation: General Principles and Practices. This guidance emphasizes that, as the FDA puts it, the validation process of manufacturing and commercialization are critical to the quality assurance of the product itself.
Here, we offer a functional definition and explanation of process validation. Also provided is a breakdown of the three stages of process validation and related rationale.
The ultimate objective is to assist readers in understanding how their organizations can successfully manage the challenges of FDA-compliant large-scale commercialization while maintaining drug quality, effectiveness, and safety.
Need project or staffing assistance for process validation within your facilities? We help thousands of life science companies develop scalable resource plans to support validation efforts throughout the project lifecycle. Whether it's drafting protocols to execution and compilation of data packs, our resources have you covered. Learn more and connect with us: Commissioning, Qualification, and Validation.
What is Process Validation?
The FDA defines process validation as, "…the collection and evaluation of data, from the process design stage through commercial production, which establishes scientific evidence that a process is capable of consistently delivering quality product".
A foundational tenet of this FDA guidance document is the lifecycle concept. The lifecycle approach is concerned not only with the initial drug development processes; but also, the establishment of commercial manufacturing and routine commercial production until the discontinuation of the product.
The Main Components of Pharmaceutical Process Validation
Another underlying principle of process validation is that quality assurance strategies must be built into each stage of drug manufacturing process.
The 3 stages of process validation are:
Process Design – The commercial manufacturing process is defined.
Process Qualification – The design is evaluated to determine whether the processes meet the demands of reproducibility.
Continued Process Verification – Ongoing assurances that all processes remain in a state of control.
It's important to note that prior to manufacturing and commercialization activities, manufacturers should be able to confirm that the products that they plan to commercialize can meet the required quality standards and that the designed manufacturing procedures can accommodate mandates related to safety and efficacy.
Manufacturers should also understand potential variations in Active Pharmaceutical Ingredient (API) and drug products that could occur during commercialization and scale-up activities. They need to make every effort to understand the source, degree, and impact of the variation.
Furthermore, a plan to control for any variations to stay within FDA mandates is essential.
The major objective then is to design, create, and maintain the drug manufacturing process to produce pharmaceuticals that meet the critical attributes of:
Identity
Strength
Quality
Purity
Potency
Need expert help with process validation? Power your commissioning, qualification, and validation operations with experienced life science resources: Commissioning, Qualification & Validation from The FDA Group.
Regulatory Mandates and Requirements
Current Good Manufacturing Practices (cGMP) come strongly into play when participating in pharmaceutical process validation activities. A number of them are legally enforceable requirements.
The FDA has deemed that a finished drug product will become adulterated (that is, become poorer in quality by adding another substance) when requirements cannot consistently and reliably meet a pre-determined quality in manufacture, processing, packing, or holding.
Sampling and testing also require specific control procedures to validate those manufacturing processes that may be causing variability. All samples must be representative of the batch under analysis, must adhere to rules of statistical confidence, and must meet its pre-determined specifications.
Section 211.180(e) mandates that information related to product quality and manufacturing practices be periodically reviewed and adjusted as needed. Thus, the idea of continuous review to obtain ongoing feedback about sound manufacturing practices is critical to compliance with cGMP.
Finally, cGMP mandates that drug-manufacturing facilities and equipment be of acceptable size, construction, and location to meet required needs. It's required that all equipment be inspected and calibrated according to industry specifications.
Understandably, there are regulations requiring documentation of written procedures for production and process control that assure that products have the identity, strength, quality, purity, and potency that they are represented to possess.
General FDA Considerations and Recommendations
The FDA has multiple recommendations for practices that industry leaders can adopt to ensure uniformity in data collection and other information and to maximize accessibility so that benefits can be achieved later on in the product lifecycle.
The FDA recommends a team-based approach to process validation, in which professionals from a variety of disciplines collaborate on appropriate procedures and best practices. (Learn more about how we can help you build an interdisciplinary validation team.)
There is great potential for various studies to explore, discover, and observe information about the drug product and process. These are highly encouraged as long as all study protocols are followed.
All attributes (quality, product, component) and parameters (process, operating, equipment) should have controls that are commensurate with their degree of risk to process and product.
Stage I – Process Design: Recommendations and Expectations
The main objective of process design is to determine the appropriate process for the commercial manufacturing of a product.
Although early process design experiments do not need to be performed according to cGMP, they should be conducted under guidelines of sound scientific principles.
Good documentation practices should be followed. In particular, studies that result in improvement of process understanding are expected to be documented.
Continuous testing and re-testing at this stage until the process fails is not normally expected by the FDA.
The establishment of process controls serves to ensure product quality, and by the same token address variability in the product. The FDA expects that process controls include examination of material as well as equipment monitoring. In particular, process control and monitoring is critical when:

the product attribute is either not detectable or otherwise measurable (eg. microbial contamination).
Or when intermediates/products are not well-characterized.
Stage 2 – Process Qualification: Recommendations and Expectations
The main objective of process qualification is to determine if the process design is effective in commercialization.
Appropriate design of the manufacturing facility is required under cGMP mandates.
Proper selection of utility systems and equipment that are built according to required design specifications.
Verifying that systems and equipment operate within required specifications.
The process performance qualification (PPQ) combined facility, utility, and equipment with properly trained personnel. The FDA highly recommends that objective measures such as statistical metrics be employed whenever possible.
Written protocols and expected outcomes are very important to this stage of process validation. It's recommended that protocol descriptions include manufacturing conditions, data collection, tests that need to be performed, and sampling plan.
Execution of the PPQ protocol should not begin until approved by all necessary departments in the organization, including quality assurance units.
Stage 3 – Process Verification: Recommendations and Expectations
The main objective of process verification is for the process to remain in a validated state during commercial manufacture.
cGMP requirements include an ongoing program to collect and analyze data relating to product quality.
Adherence to cGMP processes and principles will be critical in identifying areas of variability that need to be analyzed and/or corrected.
The FDA recommends that monitoring and sampling at the level determined during the process qualification stage be pursued until sufficient data is available.
Maintenance of the facility, utilities, and equipment should not be overlooked.
Summary and Next Steps
Pharmaceutical process validation activities provide confirmation that a manufacturing process is protected to the extent possible from variances that could interfere with the final pharmaceutical product, the intended supply chain, or public health.
Thus, adherence to these factors is very important to the safety and effectiveness of pharmaceuticals and to quality patient care.
Preparing for a validation project?

Download our free white paper

to learn everything you need to know during the planning process to execute your project on time and on budget.
Need access to qualified life science validation resources? Power your next commissioning, qualification, and validation operations with

experienced life science professionals.
We help life science manufacturers fill internal gaps or target a specific role with an individual resource or team to see your project or program through to success. You get rightsized support no matter which role you need to fill or which phase your project is in.
Talk to us today to staff your validation team with perfect-match resources backed by our Total Quality Guarantee or grab our free guide and checklist below.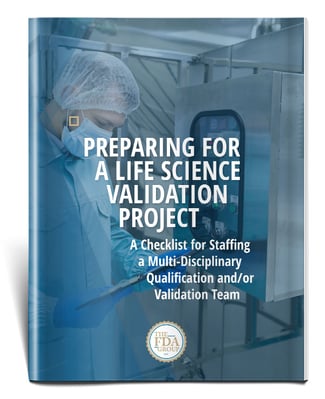 FREE WHITE PAPER
Preparing for a Life Science Validation Project
Get a playbook for overcoming the challenges of locating and evaluating validation specialists who can see your process or other validation project through to success on-time and on-budget.