As many sectors of the life science industry continue to see dramatic growth, recruiting and retaining highly skilled professionals from a talent pool that's struggling to keep up has become an enormous challenge.
Today's pharmaceutical hiring managers need to be able to scale staff up or down rapidly as project demands fluctuate—a never-ending balancing act between managing current resources and planning for future staffing needs.
These pressures have led the pharma industry to accelerate traditional FTE recruitment and also embrace the contingent workforce via staff augmentation; highly-skilled individuals with expertise in rare and competitive fields who contract with organizations on a temporary basis. As firms are finding, this model often better reflects cyclical or project-based demand while infusing staff and systems with best practices gleaned from a variety of experiences.
But building and managing a contingent workforce can demand significant time and energy without the right recruitment partner—one that can take on the intensive work of finding talent and qualifying candidates around precise and constantly evolving requirements.
Here, we explain three useful tips when looking for a pharma staffing and recruitment partner that can help you find exactly who you need, when, and where you need them.


Looking for an expert pharmaceutical recruitment agency?
Join the hundreds of life science companies accessing top life science talent with The FDA Group.
At The FDA Group, we help life science organizations rapidly access the industry's best consultants, contractors, and candidates. Our resources assist in every stage of the product lifecycle, from clinical development to commercialization, with a focus in Quality Assurance, Regulatory Affairs, and Clinical Operations, as well as Commissioning, Qualification, and Validation, and Manufacturing and Engineering.
Contact us to start the conversion and access the industry's top talent, or explore our engagement models in more detail: Consulting Projects, Staff Augmentation, FTE Recruitment.
1. Find your niche. Are they generalists, or do they live and breathe life science?
Staffing and recruitment firms that work across a variety of industries often dilute their effectiveness in each one.
The core issue here is that recruiters within these firms are often generalists themselves.
Unlike a niche firm, whose recruiters must bring deep industry-specific experience to be successful, generalists often don't have the firsthand subject matter expertise to understand and articulate the fine points about the roles and functions that guide their search and selection process.
Without the expertise to make their clients' lives easier by narrowing 10 to 15 resumes down to five or fewer, generalists often can't avoid the cliche of throwing things against a wall to see what sticks. If a qualified candidate is even in the stack they provide, it's now up to the client to spend the time and energy selecting a winner.


Here at The FDA Group, our recruiters and project managers come from the world they hire into each day. Unlike larger firms, we're armed with firsthand experience working in the roles where the subtle details make all the difference—accelerating the process of finding great talent. Learn more about our pharmaceutical recruitment services.
2. Ask about their search process. How do they identify and pre-qualify candidates to make your life easier?
Especially in specialized life science roles, a resourcing firm's job is to identify genuinely perfect-fit talent—not simply pass a stack of resumes back. Investigate how the firm finds and selects the resources they deliver as candidates to ensure they're more than just a job board.
What methods do they use to apply your requirements to identify potential candidates?
Equally, if not more importantly: How do they sift through that group and work it down to a shortlist or even just one extremely qualified candidate you can be confident in?
We have an extensive network of resources with established consulting agreements—some of whom are former FDA staff with intimate knowledge of requirements and expectations. If the perfect resource isn't found there for some reason, we immediately move to an active channel to source from many thousands more in locations all around the world, most of whom are not listed on job boards or other channels utilized by HR departments.

A few simple questions can go a long way in locating an effective resourcing partner.
Here are a few:
Will this firm push the real work back onto me by showing up with ten or more candidates? Or is this a firm that's so effective I can check their first one or two top choices and move forward without delay?
How do they identify candidates? Do they have a bench of talent and active channels? Or do they grab a prepackaged template and blast it out to LinkedIn?"
Do they work with talent sourcing partners in other countries to secure offshore resources?
Do they tout special software for identifying candidates?

Be wary. These tools are often just flashy crutches to distract from lackluster recruiting skills. As of now, no magic tool—even with AI—can outperform an experienced resourcing professional who can discern soft skills through subtle, often intangible indicators.
3. Gauge their experience level. Do they have what it takes to fill specialized functional roles on your team?
Experience level often ties in closely to generalist versus niche resourcing firms.
Are the recruiters tasked with finding a particular skillset still finding their stride professionally?
Do they genuinely know the industry terms they're working with?
This is a simple, but critical point that often flies under the radar only to result in a messy stack of candidates that might be far from what you actually need. More resumes don't mean better candidates.
Connect with the top pharma talent you need, wherever and whenever you need them.
Need to fill select pharmaceutical roles in-house—particularly in the areas of Quality Assurance, Regulatory Affairs, Clinical Operations, Commissioning/Qualification/Validation, or Manufacturing and Engineering? We rapidly identify qualified consultants, candidates, and contractors and connect you to them through the optimal workforce model.
Whether you need to fill a single role or multiple roles on your team, we connect you to professionals with experience and expertise across all phases, therapeutic areas, and locations to augment and scale your in-house team through consulting, contracted staff augmentation, or a direct-hire arrangement.
What's your pharma resourcing need?
"I'm looking for an expert pharma consultant." Execute your projects on time and on budget with an individual or team of specialized consultants. Dedicated project managers work closely with you to establish and track project milestones, schedule activities, guide resources, and report on success. Learn more about our consulting services.
"I'm looking to augment my staff—or fill interim roles—with contracted pharma talent." Need rapid, flexible access to top talent? Fill staffing gaps with an individual or team of qualified resources. Our large staff provides broad capability and specific expertise through a convenient staff augmentation model for contracted full-time engagements. Learn more about our staff augmentation services.
"I need help recruiting a full-time employee or team." Our recruiters draw on extensive industry expertise to fully understand your hiring needs and conduct a rigorous identification and screening process to provide a shortlist of highly qualified FTE candidates in specialized, competitive areas. Learn more about our FTE recruitment services.
Contact us to learn more about fulfilling specific pharmaceutical resourcing needs. We help life science organizations secure a wide variety of specialists with the perfect combination of qualifications, experience, and motivation for succeeding in challenging and demanding projects—all at a competitive rate and backed by a Total Quality Guarantee.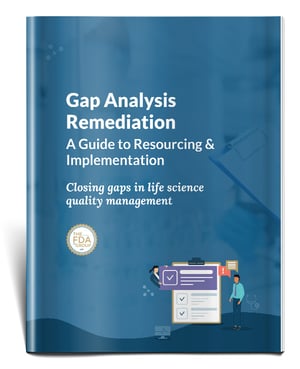 Gap Analysis Remediation: A Guide to Resourcing & Implementation