A new report from PricewaterhouseCoopers (PwC), showed a spike in CDER warning letters in 2017 as pharmaceutical companies struggled to maintain quality control in light of greater regulatory oversight over quality at manufacturing sites.
While 22 percent fewer warning letters were issued by FDA overall in 2017 from 2016, those from CDER increased by 35 percent, totaling 85.
Digging deeper into the contents of these warning letters, data integrity issues and non-adherence to current Good Manufacturing Practices (cGMP) were cited as common root causes.
Free White Paper: Ensuring Enterprise-Wide Data Integrity for FDA-Regulated Industries

Increased Emphasis on Drug Quality During FDA Inspections
The report's authors note that the increase in CDER warning letters is "likely due to increased emphasis on drug quality during FDA inspections, and not that the pharmaceutical industry is experiencing increased drug quality issues."
The authors go on to suggest that recent legislation such as the FDA Safety and Innovation Act of 2012 and the Drug Quality and Security Act of 2013 have strengthened regulatory oversight, resulting in more frequent enforcement actions following inspection.

Future Impact on Drug Manufacturers
The report acknowledges that while it may be too early to tell if the compliance trends that affected a number large domestic and foreign drug manufacturers in 2017 will continue, they note that the threat of more wide-ranging regulations like those in the Drug Quality and Security Act, could strengthen over time.
"It may be another year or two before the industry begins to see if the Trump administration engages in more or fewer investigations than its predecessor and whether it will focus on new areas of enforcement, such as actions under the Controlled Substances Act or False Claims Act related to the opioid crisis."
"If historical trends hold, pharmaceutical and life sciences companies could see an uptick in regulation and policy documents coming out of the FDA, with potentially more consequence. Larger regulations often take more than a year to develop."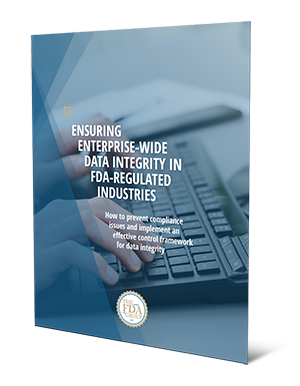 Grab our free white paper, Ensuring Enterprise-Wide Data Integrity in FDA-Regulated Industries, and learn everything you need to know to protect your data in an increasingly scrutinized regulatory environment.