In the last decade, there has been a significant shift in auditing clinical trials towards a risk-based model. Our approach takes it a step further by incorporating a quality management framework into our clinical audit methodology.
During our audits, we prioritize areas of risk that have the potential to impact patient safety, reliability of study data, and ethical considerations. Additionally, we strive to identify any underlying process deficiencies.
By carefully assessing which processes are affected and the resulting deficiencies, we are able to enhance the efficiency of the corrective and preventive action process (CAPA) by addressing the root cause of process breakdown and finding effective ways to mitigate it.
Our quality system evaluation extends to investigator or vendor sites and sponsors. By utilizing the QM approach, we analyze whether the process deficiencies occurred during the planning, execution, or verification stages.
Through this comprehensive approach, we have delivered clear and impactful audit findings, which have resulted in more successful CAPA measures and sustainable improvements at the process level. In this article, we will delve into the numerous benefits that this approach offers.
Need clinical investigator site audit support? We can help.
---
Ensuring your clinical trials adhere to GCP standards across all stages—from planning to reporting—is crucial. With the advent of new technologies and methodologies like Risk-Based Monitoring, staying updated requires expertise.

Our experts customize audit plans to your needs, conducting thorough GCP audits on everything from protocols and sites to databases and final reports. We ensure your results are reliable and your practices remain robust.
Our services include:
Mock BIMO Inspections
Auditing and document review for SOPs, clinical GCP protocols, and reports
Audits of submission for ethical approval for GCP clinical trials
Audits of clinical sites Audits of Trial Master Files (TMFs)
Audits of Contract Research Organizations (CROs) and other vendors
Our Quality Assurance team is well-versed in both domestic and international markets, ready to align with your specific compliance requirements and development phase.
Get in touch to enhance and execute your audit program.
The Basics of Clinical Investigator Site Audits
Clinical investigator site audits are a critical component of clinical research, serving as a quality assurance tool to ensure that the rights, safety, and well-being of human subjects are protected, and that the data generated from clinical trials are accurate, reliable, and verifiable. These audits are conducted to assess compliance with the study protocol, Good Clinical Practice (GCP) guidelines, and applicable regulatory requirements.
What are clinical investigator site audits?
Clinical investigator site audits are formal examinations of how clinical trials are conducted at the research sites. They involve a systematic and independent evaluation of the clinical trial processes and procedures to ensure adherence to clinical protocol, regulatory and ethical standards, and data integrity.
The primary reasons for conducting these audits include:
To protect the rights and welfare of participants.
To ensure the credibility and reliability of clinical trial data.
To verify adherence to the approved protocol and amendments.
To assess the investigators' and site staff's qualifications and abilities to conduct the trial.
To ensure that the site is following regulatory requirements and GCP standards.
To identify areas of potential risk and non-compliance.
To provide feedback and guidance for continuous improvement.
When are they conducted?
Audits can be performed at various stages of a clinical trial:
Pre-study audits, before the trial commences, to ensure the site is capable of conducting the trial.
Routine audits, conducted during the trial, to monitor ongoing compliance and data quality.
For-cause audits, triggered by specific events or concerns that arise during the trial.
Close-out audits, conducted after trial completion, to review the entirety of the trial conduct and data collection.
How are they performed?
An audit typically involves:
A review of essential documents, such as the Investigator's Brochure, trial protocol, informed consent forms, and case report forms.
Interviews with the principal investigator, study coordinators, and other site staff.
Direct observation of study processes and procedures.
Verification of data accuracy by comparing source documents (e.g., medical records) with the data reported to the sponsor.
Assessment of adverse event reporting and handling.
Evaluation of the storage and handling of investigational products.
What happens after an audit?
The auditor will provide a report detailing findings and observations after an audit. If non-compliance issues or areas for improvement are identified, the site is usually required to respond with a CAPA. Follow-up audits may be conducted to ensure the CAPA is implemented effectively.
How Clinical Study Audits Have Evolved
In the past, clinical audits were performed based on a set cycle and would cover all aspects of a process from beginning to end.
Instead of routine full-process audits, regulators, including the FDA, now recommend a risk-based approach to determine the timing and focus of audits. This shift emphasizes using resources effectively by targeting areas that present the highest organizational risk.
Audit planning now relies on risk assessments that evaluate operational, regulatory, and compliance factors to identify critical areas for review. Auditors concentrate on elements that affect patient safety, ethical considerations, and data integrity, guided by data analysis and risk indicators. This method enhances organizational efficiency by spotlighting areas with the most significant risk potential.
How We're Taking Clinical Study Audits Even Further
We aim to advance risk-based auditing by applying this approach to identifying and reporting audit findings. This method allows us to highlight non-conformances and pinpoint the flawed processes causing these issues.
By linking deficiencies directly to their consequences, we strengthen our case for necessary changes and improvements, facilitating a clearer understanding among stakeholders of the need for action.
Here's an example to illustrate:
Consider a scenario where a pharmaceutical company consistently encounters data integrity issues during clinical trials. These issues frequently rank as one of the top findings in regulatory inspections and internal audits.
A typical audit might reveal that trial data was not recorded in a timely manner, leading to corrective actions focused on immediate data handling practices, such as retraining staff on proper documentation procedures.
However, a more insightful approach would be to investigate the underlying processes contributing to these data integrity issues. For instance, it might be discovered that the electronic data capture (EDC) system is not user-friendly, causing delays in data entry.
Alternatively, the root cause could be inadequate staffing or a lack of clear data management protocols. By identifying the core process deficiencies—whether they are technological, procedural, or resource-related—the CAPA can be designed to improve the overall quality management system.
This could lead to enhancements in the EDC system, revision of data management protocols, or adjustments in staffing models, thereby preventing similar issues across multiple clinical trials and sites.
The assessment of the QMS at both the investigator site and the sponsor level is crucial for identifying where failures may have occurred throughout the lifecycle of a clinical study.
Here's how an auditor might approach this assessment:
At the Investigator Site
---
Planning Stage: Was the study set up correctly? If there were issues in the planning phase, such as inadequate training or unclear protocols, this could lead to systemic problems later on.
Do Phase:

How well was the study executed? Failures here might include incorrect data collection or non-adherence to the study protocol.

Check Phase:

Did the principal investigator have proper oversight and control mechanisms to catch issues early? A lack of effective monitoring could allow errors to go unnoticed and unaddressed.

Action Phase:

Were there prompt and effective corrective actions to address identified errors? Failures to act, or ineffective actions, can exacerbate issues and lead to further non-compliance.
At the Sponsor Level
---
Planning Stage: Were the tools and instructions provided by the sponsor adequate for successful execution? Insufficient guidance can lead to confusion and non-compliance at the study site.
Do Phase:

Was the sponsor's monitoring of the clinical study site effective? Inadequate monitoring can miss critical issues that compromise data integrity and participant safety

Check Phase:

Were there performance indicators to identify risks? The absence of such indicators can prevent the early detection of potential problems.

Action Phase:

How effective were the sponsor's controls to prevent or mitigate risks? Ineffective controls may not adequately protect against the recurrence of issues.
The Keys to Success
To make the risk-based quality management approach in formulating audit findings successful, several key elements are required:
Mature Quality Culture: The success of this approach hinges on a mature quality culture within the sponsor organization and its partners. Stakeholders must be willing to adopt an end-to-end perspective that transcends departmental boundaries, fostering openness to continuous improvement.


Global Process Owners (GPOs): GPOs are crucial in a global operating model. They oversee processes across functional and geographic boundaries, ensuring alignment and setting clear expectations. They stay abreast of external and internal changes that could affect processes and facilitate necessary adaptations.
Functional Leadership: Leaders of functional teams must be ready to address audit findings that indicate execution deficiencies. They play a pivotal role in implementing corrective actions at the operational level.
Auditor Training: Auditors should be trained to distinguish between conducting process-driven audits and performing root-cause analysis. They need to understand that their role is to identify where and why a process failed, not to conduct the root-cause analysis themselves.


Investigation and Evaluation: The investigator site staff and sponsor staff are responsible for investigating the root causes of failures, considering factors related to people, processes, equipment, or systems.
Robust CAPA: A focus on process deficiencies rather than individual blame leads to more robust CAPAs. Findings that clearly articulate the process issue and its impact facilitate acceptance and enable targeted corrective actions.
Process-Level Solutions: By identifying which process failed, the respective GPO can drive the CAPA process, ensuring that solutions are implemented at the correct level for effective change.

Continuous Improvement: The approach should promote continuous improvement, with auditors recognized as process-thinking experts. This fosters meaningful discussions with auditees, focusing on risk, impact, and critical thinking.
A Clinical Investigator Site Audit Checklist
To ensure FDA compliance during clinical trials, firms should have a comprehensive audit checklist. Here's a structured checklist with key areas to review. Keep in mind this is not exhaustive.
Protocol Compliance: Verify that the Investigator and site staff have adhered to the IRB-approved study protocol.
Institutional Review Board (IRB): Confirm documentation and on-site storage of all IRB approvals, amendments, and informed consent documents.
Human Subject Records: Review informed consent forms, medical records, and other source documents for completeness and protocol adherence.
Other Study Records: Check administrative files, correspondence, subject lists, logs, and forms for accuracy and completeness.
Informed Consent of Trial Subjects: Ensure informed consent is obtained using IRB-approved forms and that the process is documented.
Financial Disclosure: Review financial interest disclosures from investigators and study staff for currency.
Electronic Records and Electronic Signatures: Validate that electronic systems meet regulatory requirements and staff are trained in their use.
Test Article Control: Confirm proper receipt, labeling, inventory, storage, and disposal of the drug.
Record Custody and Retention: Ensure records are stored and retained according to protocol and regulations.
Reports to Sponsor: Verify submission of all required reports, especially on safety issues or protocol deviations, to the Sponsor.
Investigator Qualifications and Agreements: Assess the Investigator's experience, training, and knowledge of GCP and regulatory requirements.
Adequate Resources: Confirm that the Investigator has sufficient qualified staff and facilities to conduct the trial.
Medical Care of Trial Subjects: Ensure trial subjects receive proper medical care and oversight for trial-related decisions.
Communication with the IRB: Check for documented IRB approvals for the research application, consent forms, and subject information.
Randomization Procedures and Unblinding: Review compliance with randomization and blinding procedures, and documentation for any unblinding.
Records and Reports: Ensure data reported to the sponsor is accurate, complete, legible, and timely.
Progress Reports: Confirm submission of research status to the IRB and immediate reporting of serious adverse events to the sponsor.
Regulatory Essentials: Review the regulatory binder for completeness, including Form FDA 1572, protocol, and IRB correspondence.
Study Staff: Verify qualifications, licenses, and training of all study staff.
Data and Safety Monitoring: For high-risk trials, review DSMB reports for compliance issues or patterns.
Record Archiving: Check that all documents and data are organized and stored securely.
Premature Termination or Suspension of a Trial: Ensure procedures are in place for informing subjects, regulatory authorities, and for subject follow-up.
Final Report by Investigator: Verify that the IRB and regulatory authorities have been informed of the trial's outcome and that all required reports have been submitted.
The Importance of Independent Auditors
Conducting an independent audit is essential for several reasons. An objective evaluation is chief among these. Independent audits provide a fresh, unbiased perspective on the quality systems of your program, ensuring a thorough and impartial assessment.
Other reasons include:
Avoiding Conflicts of Interest: Audits performed by parties associated with the program may unintentionally overlook or downplay issues due to inherent conflicts of interest.
Regulatory Compliance: Independent audits are critical for uncovering issues proactively, allowing for corrections before regulatory bodies like the FDA identify them during their inspections.
Vendor Compliance: With the significant investment involved in drug development, ensuring that your vendors adhere to quality standards is crucial. Independent audits scrutinize vendor processes to ensure they meet compliance requirements, safeguarding against costly errors that could be flagged by the FDA.
Risk Mitigation: By identifying and addressing gaps in quality systems early, independent audits help mitigate the risk of non-compliance, which can lead to severe consequences such as trial invalidation or mandated remedial actions.
Investment Protection: Independent audits are a proactive step in protecting your drug development program and financial investment by ensuring that all aspects of the program are compliant and on track.
Quality System Development: Firms like ours not only conduct independent audits but also assist in developing robust quality systems and metrics to monitor ongoing compliance, further safeguarding your investment.
Expertise and Consistency: Independent audits are conducted by seasoned professionals who bring expertise and consistency to the audit process, contributing to the reliability and integrity of your compliance efforts.
To ensure comprehensive compliance and protect your drug development program, we always advise using the services of a specialized firm for independent auditing.
The FDA Group has provided expertise and support in maintaining and improving quality systems for ongoing compliance with FDA regulations for hundreds of firms. Contacting a professional audit service can be a crucial step in ensuring the quality and success of your clinical trial and drug development endeavors.
A Few Investigator Site Audit FAQs
Q: How does a Risk-Based Monitoring (RBM) approach affect the audit process of clinical investigator sites?
RBM tailors the audit process to prioritize the most critical and high-risk aspects of clinical trials. In an RBM approach, auditors give precedence to data and processes that are crucial to protecting human subjects and ensuring the reliability of trial results. Although traditional comprehensive audits may still occur, RBM leads to a more efficient allocation of auditing resources, focusing on areas such as informed consent, adherence to the protocol, and the integrity of reported data. Auditors use a combination of on-site and centralized monitoring techniques to identify and mitigate risks throughout the study.
Q: What are the implications of electronic data capture (EDC) systems on site audits?
EDC systems have significantly changed the landscape of clinical data management and, consequently, the audit process. Auditors must now be proficient in validating electronic systems to ensure they are compliant with 21 CFR Part 11 and other relevant regulations. This includes verifying the security of the system, the accuracy of data transfers, and the integrity of electronic records. Auditors must also assess how site personnel are trained on these systems and how data corrections and audit trails are managed.
Q: How are findings from clinical investigator site audits typically communicated to the sponsor and the site?
Audit findings are typically summarized in a formal audit report that is shared with both the sponsor and the site. The report will categorize findings according to their severity, such as critical, major, or minor non-compliance. It will also recommend CAPAs. The site is usually required to respond to the findings, outlining how they will address each issue and prevent its recurrence. The sponsor is responsible for ensuring that the site implements these CAPAs and may conduct follow-up audits to verify compliance.
Q: Can a clinical investigator site fail an audit, and what are the consequences?
Yes. If a site fails an audit and significant non-compliance issues are found that could affect participant safety, data integrity, or violate regulatory requirements, it can have serious consequences. The consequences can range from requiring a response with CAPAs to more severe actions such as suspending the study at the site, disqualifying the investigator, or reporting the findings to regulatory authorities, which can lead to further regulatory actions.
Q: What role do auditors play in the continuous improvement of clinical trial processes?
Auditors play a pivotal role in continuous improvement by not only identifying non-compliance and areas for improvement but also by sharing best practices and providing feedback on processes. Their findings can help shape training programs, refine protocols, and improve overall trial conduct. The goal of an audit is not just to find faults but to help the site enhance its processes for future trials.
Q: How are global clinical trials with multiple international sites managed from an auditing perspective?
Global clinical trials present unique challenges due to varying regulatory requirements and cultural differences. Auditors must be knowledgeable about the local regulations of each country involved. Audits may be conducted by local teams with global coordination to ensure consistency. The audit plan for such trials is often developed with a global scope but allows for local flexibility to address specific regional requirements and risks
Need Clinical Investigator Site Audit Support? We Can Help.
When conducting clinical trials on investigational medicinal products or devices, you must show that planning, study conduct, performance, monitoring, auditing, analysis, and reporting all meet the ethical and scientific standards for GCP.
As new technologies transform the way clinical research is carried out around the world, keeping ahead of these trends is no small task. Whether you follow a traditional approach to monitoring or are transitioning to a Risk-Based Monitoring (RBM) system, our quality professionals tailor their auditing plans to accommodate your particular needs.
Our quality professionals closely examine your particular study before planning and executing study-specific GCP audits of protocols, investigator sites, trial master files, pharmacovigilance, databases, and reports.
With the help of experienced industry professionals, you can be confident knowing results are credible and accurate while maintaining quality practices throughout the research.
Mock BIMO Inspections
Auditing and document review for SOPs, clinical GCP protocols, and reports
Audits of submission for ethical approval for GCP clinical trials
Audits of clinical sites
Audits of Trial Master Files (TMFs)
Audits of Contract Research Organizations (CROs) and other vendors
Clinical trial audits are tailored to your particular compliance needs and stage of product development. Our Quality Assurance team has performed audits in a variety of markets both domestic and international.
Contact us to learn more about how we can support your auditing program.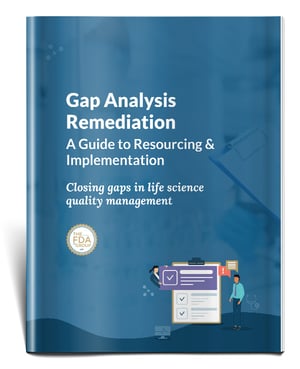 Gap Analysis Remediation: A Guide to Resourcing & Implementation