Regulations set forth by the FDA establish an expectation that all aspects of a regulated manufacturing process are well-established, documented, and controlled to ensure consistent high-quality products.
The Validation Master Plan (VMP) is critical in achieving this goal by documenting compliance requirements and explaining necessary validation activities across a manufacturing operation.
Unlike a written plan for a specific validation project, the VMP functions at the top layer control, establishing a defined approach to all validation activities and describing the risk-based strategy for achieving and maintaining a fully-qualified facility supported by all necessity validated processes.
Read on for a practical definition of a VMP, its purpose, its key components, a checklist for evaluation or development, and more.
Free White Paper: Preparing for a Life Science Validation Project
What is a VMP?
A VMP is a formal document explaining how you operate your validation program. It identifies who controls validation activities and how impacted functional areas are directed accordingly.
Simply put, the VMP is the manufacturer's roadmap for qualification throughout a facility. It clearly defines the systems which must be validated and details the program your organization sets forth to conduct validation activities.
Like other master plans, the VMP is a tool for process control. It serves a practical function in instructing personnel on how and why validation activities should be carried out, as well as a compliance function in documenting your validation program to meet regulator expectations for proper process control.
What is the Purpose of VMP?
In addition to the general functions we just described, the VMP enables stakeholders within your organization to unify around the details of your validation strategy. It eliminates ambiguity in justifying validation activities, both internally across your team and externally for regulators during inspections. Beyond the frontline team, it can be a vital tool for informing and educating upper managers about the importance of validation in terms of its downstream impact on product quality.
It's also a critical tool for planning purposes as it identifies anticipated resource needs and provides key input into scheduling of project timelines. When well-crafted, it can be a primary resource in scoping a validation effort to determine impacted products, processes, procedures, facilities, equipment, and utility systems.
Read Also: 5 Steps to Creating an Effective Life Science Validation Team
An effective VMP allows you to demonstrate documented control over a major component of your quality system — a critical capability for those whose validation programs come under any degree of scrutiny. Just as a manufacturer would not begin a product realization effort without a Design and Development Plan, a production effort should not begin without a VMP.
What Does an Effective VMP Include?
From a risk-based perspective, the VMP should include an overall assessment of the potential impact of the manufacturing processes on product quality. By using a risk-based approach, the VMP will identify which processes to validate and in what order to perform the validations.
This risk assessment may also identify processes that don't require validation. In the VMP, each manufacturing process should be broken down and assessed to understand the impact each could have on the final product. This assessment serves as a strong justification for the scope and requirements included in process validation protocols.
Overall, the VMP should describe the activities and requirements for a validation program and mandates the methods for continuous monitoring.
Other specific elements should include (but are not limited to), the scope of validation (specific to utilities, processes, systems, and procedures); the roles and responsibilities associated with validation activities; the selection and management of any validation activities conducted by third parties; deviation management; change control/management; and training.
The Anatomy of an Effective Validation Plan
In outlining the substantive validation plan itself, be sure to identify what specifically requires validation and the means by which it should be carried out. This should include timing considerations, procedures, and justifications.
In addition, the VMP should detail your organization's overall approach to its validation activities and why that approach is appropriate.
Key informational components should include, but are by no means limited to:
A definition of the VMP's purpose. (Demonstrating the critical equipment, systems, and processes are performing to design specifications and intended uses.)
An assurance that all validation activities are conducted according to written and approved protocols at the proper time and place.
A clear indication that validation activities will be determined through a documented risk-based assessment process.


A Quick Validation Master Plan Checklist
Whether you're setting out to develop a VMP or seek to identify weaknesses in an existing one, the following questions can serve as a helpful starting point for planning or assessment and remediation:
Does your VMP list potential resource needs for specific types of validation activities and a plan for setting project timelines?
Does your VMP effectively educate your leadership team about the necessity and value of validation activities in terms of product quality?
Does your VMP include prospective schedules and timelines for validation projects?
Does your VMP detail all activities in process validation as well as manufacturing equipment and utilities qualification?
The Value of External Validation Support
Carrying out effective validation across all stages of a product lifecycle continues to be among the top challenges for life science companies.
While some validation activities can be resourced with internal staff, many require augmenting your team with outside talent who can bring years of experience and specialized expertise to boost efficiency and ensure a successful outcome.
By building a validation team that can apply personal experience with the same or similar types of projects, department and company leaders can better ensure thoroughness and accuracy while also completing them on time and on budget.
---
Learn how we help life science manufacturers fill key roles for interim or long-term validation needs around the world: Commissioning, Qualification & Validation.
Additional Resources & Next Steps
Preparing for a validation project? Download our free white paper to learn everything you need to know during the planning process to execute your project on time and on budget.
Need access to qualified life science validation resources? Power your next commissioning, qualification, and validation operations with experienced life science professionals. We help life science manufacturers fill internal gaps or target a specific role with an individual resource or team to see your project or program through to success. You get rightsized support no matter which role you need to fill or which phase your project is in.
Talk to us today to staff your validation team with perfect-match resources backed by our 100% Quality Guarantee or grab our free guide and checklist below.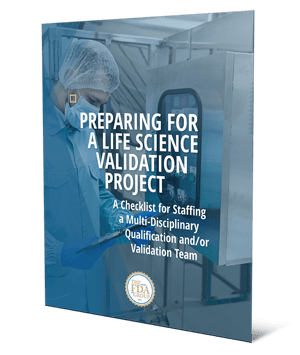 Preparing for a Life Science Validation Project

Get the guide to ensuring your team can complete Validation projects on time and on budget.