Watch our free recorded webinar: The Complete Guide to EU-MDR Transition
A Playbook for Successful Revision and Implementation
45-minute presentation with 15-minute Q&A
---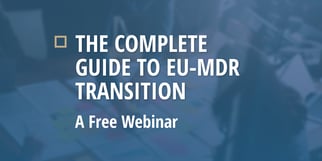 The release of the European Medical Devices Regulation (EU-MDR) has put significant pressure on medical device companies to closely scrutinize the new regulations, assess the impact on their own organization, and implement compliant processes and procedures accordingly.
This webinar will present a clear and concise process for structuring your transition process no matter how far along your organization is.
What we'll cover:
• A brief overview of the basics of the EU-MDR, focusing specifically on key changes
• How to plan and scope your EU-MDR transition program
• How to conduct a thorough gap analysis specific to EU-MDR transition
• How to scale your transition program to encompass the entire enterprise
• The key steps of implementing an EU-MDR transition program
• Timeline considerations
• And much more.
About the Presenter

Presenter Larry Stevens, RAC, has held almost every field position within FDA during his 21-year career with the Agency. He has over 18 years of experience in the medical device industry, rising from an RA Manager to Vice President of RA/QA/Clinical for major class III device manufacturers.
He specializes in p
lanning, creating, and auditing quality systems as well as creating clinical plans, including protocol development, case report form development, and implementing and managing clinical trials. He also assists in design control to meet FDA requirements. Larry is a professional speaker who regularly trains on all aspects of FDA requirements while offering practical, successful solutions to FDA problems.
Watch this free webinar ⤴