Watch our free webinar: Preparing for the Medical Device Single Audit Program (MDSAP)
45-minute presentation with 15-minute Q&A
---

T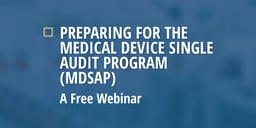 he Medical Device Single Audit Program (MDSAP) is a new global initiative designed to harmonize regulatory efforts around the world. But despite looming deadlines, comparatively few medical device companies have a meaningful understanding of the advantages (and disadvantages) of pursuing MDSAP certification and how to prepare accordingly.
We've compiled insights from experts who have firsthand experience helping device manufacturers prepare for the MDSAP.
You'll learn:
The basics of the MDSAP

How the new grading system works

Which kinds of medical device companies stand to benefit from the MDSAP

What to consider before pursuing MDSAP certification

How to prepare for success before auditors arrive
Whether you're a VP, Director, Regulatory Affairs Manager, Quality Assurance Professional, Consultant, or anyone else involved in ensuring regulatory compliance is maintained, you'll come away with actionable takeaways you can use to make an informed decision about the MDSAP and how to prepare for it.
About the Presenter

Presenter Larry Stevens, RAC, has held almost every field position within FDA during his 21-year career with the Agency. He has over 18 years of experience in the medical device industry, rising from an RA Manager to Vice President of RA/QA/Clinical for major class III device manufacturers.
He specializes in p
lanning, creating, and auditing quality systems as well as creating clinical plans, including protocol development, case report form development, and implementing and managing clinical trials. He also assists in design control to meet FDA requirements. Larry is a professional speaker who regularly trains on all aspects of FDA requirements while offering practical, successful solutions to FDA problems.