Ask an FDA Expert Anything


A Free Recorded Q&A Webinar
---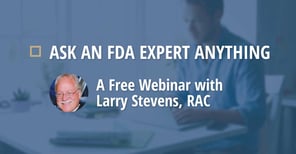 The FDA Group's Larry Stevens answers over 20 user-submitted questions covering FDA compliance, quality, and regulatory topics.
This recorded webinar is available on-demand. Submit the form on this page to view the free presentation.
Topics include:
ISO 13485:2016

FDA guidelines regarding data integrity

MDR proactive actions

FDA inspection readiness

Clinical studies

Human failures & risk analysis

510(k) for device modifications and innovations

Training employees for compliance

FDA audits

CAPA

Compliance for combination products

Regulatory harmonization

Post-market clinical follow-up studies

The future of QSR & ISO

13485
...and much more.
---
Meet the Expert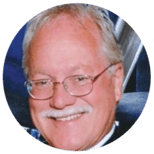 Larry Stevens, RAC
Mr. Stevens, RAC, has held almost every field position within FDA during his 21-year career with the Agency. He has over 18 years of experience in the medical device industry, rising from an RA Manager to Vice President of RA/QA/Clinical for major class III device manufacturers.
Larry is a professional speaker who regularly trains on all aspects of FDA requirements while offering practical, successful solutions to FDA problems.
Larry's specialties include planning, creating and auditing quality systems, creating clinical plans, auditing (GMP, GLP, GCP), compliance/quality remediation, design controls, FDA inspection, SOPs, ISO 13485, validation, quality management, and much more.

Watch the the free Q&A webinar ⤴