Get our free white paper

: Harmonizing Disparate Quality Systems

Get answers to the biggest quality system questions medical device companies face when undergoing a merger, acquisition, or technology transfer.

---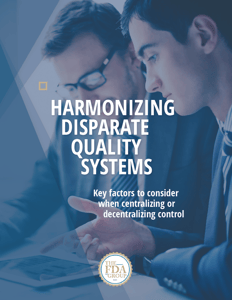 In 2015 and 2016, there were over 150 major medical device company acquisitions and mergers, and that trend has only accelerated in 2017. These events often bring important questions regarding quality that can have far-reaching consequences if not addressed thoroughly by both department and company leadership.
We've compiled insights from experts with firsthand experience helping device manufacturers make informed decisions when integrating quality systems and performing the due diligence necessary to ensure compliance in both the short and long term.
You'll learn:
Factors to consider when deciding whether an incoming quality system should be retained or changed

A process to follow to ensure any quality system gaps are revealed and addressed
Important regulations that have direct impact on the process
Where incoming quality systems are prone to noncompliance
How an experienced third party consultant can be a valuable asset during the process
Whether you're a VP, Director, Regulatory Affairs Manager, Quality Assurance Professional, Consultant, or anyone else involved in ensuring regulatory compliance is maintained, you'll come away with actionable takeaways you can use to make informed decisions before, during, and after absorbing a new quality system.
Meet the contributors



Rich Wynkoop
Rich is a seasoned executive who takes a pragmatic approach to quality management, regulatory affairs, and compliance to achieve cost effective and successful outcomes. His experience spans world-class enterprises and multinational organizations in medical device industries as a hands-on Quality Engineer, R&D Manager, QA Plant Manager, Director QA/RA, and Vice President QA/ RA. This range of experience enables him to quickly target pragmatic solutions to difficult problems. Rich has also spent significant time preparing for and hosting regulatory audits and remediating difficult audit observations. He has designed and implemented Design Control, Software Validation, CAPA and other quality system elements that have stood up to robust examination.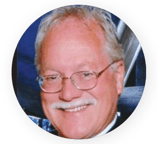 Larry Stevens, RAC
Larry has held almost every field position within FDA during his 21-year career with the Agency. He has over 18 years of experience in the medical device industry, rising from an RA Manager to Vice President of RA/QA/Clinical for major class III device manufacturers. He specializes in planning, creating, and auditing quality systems as well as creating clinical plans, including protocol development, case report form development, and implementing and managing clinical trials. He also assists in design control to meet FDA requirements. Larry is a professional speaker who regularly trains on all aspects of FDA requirements while offering practical, successful solutions to FDA problems.