Get our free white paper

: FDA Trends & Developments for the Medical Device Industry: 2016

A Guide to Recent FDA Initiatives & Advice for Industry Leaders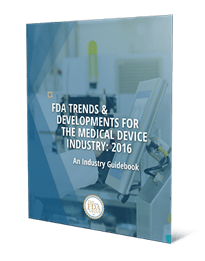 The regulatory environment is in a state of transition. New technologies, growing cost pressures and quickly-shifting consumer expectations are just a few of the factors driving changes in medical device manufacturing and regulatory compliance both domestic and abroad.
We've gathered the top FDA trends and developments for 2016 into this go-to guide along with advice from industry experts and on how these initiatives will affect medical device companies large and small.
What's inside:
Actionable summaries of the top ten FDA initiatives for medical device companies in 2016
Key takeaways from recent FDA Guidance documents
Advice from industry experts and Former FDA personnel
Submit the form on the right to read the white paper.