Watch our free webinar: Ensuring Enterprise-Wide Data Integrity in FDA-Regulated Industries
Data integrity issues are among the most significant compliance problems manufacturers struggle with today.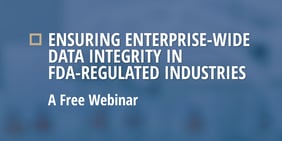 All too often, the scope of data integrity is misunderstood and oversimplified. Managing data and the systems that govern it stretch far beyond the IT department to encompass C-level executives and support groups in the areas of engineering, manufacturing, and quality. It requires a company-wide commitment to quality management that starts at the top.

This webinar offers a purely practical perspective on what data integrity is and how to mitigate data-related issues by developing and implementing a sound control framework. We'll also offer solutions to common data integrity problems.
You'll learn:
A practical perspective of data integrity

Human factors, procedural controls, & technical controls related to data integrity
Steps company leaders can take to create a culture of integrity within their organization
A guide to sound data management and data governance practices
Specific actions you can take to prevent common data integrity problems and subsequent enforcement actions
Industry insights from a top data integrity & CSV expert

Presenter Chinmoy Roy has extensive expertise in the design, delivery, and validation of industry compliant computerized and control systems for pharmaceutical and biotech manufacturing. He offers over 37 years of U.S.-based subject matter expertise in the design, development, QA, validation, and CFR 21 Part 11 implementation for automation and computerized systems. As a principal Lead Engineer, Chinmoy directed several engineering teams to design, commission, validate, and obtain USFDA certification for multimillion-dollar computerized control systems. He has conducted several data integrity audits and has successfully established data integrity programs in companies found lacking such programs.