Read our free Case Study: Domestic Auditing Project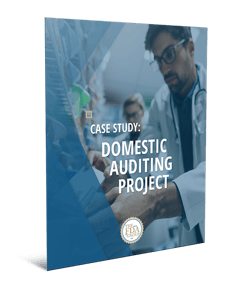 The FDA Group was pleased to have supported a series of Risk Evaluation and Mitigation Strategy (REMS) Audits conducted in both clinical inpatient pharmacies and distribution centers throughout the United States. These assessments evaluated product distribution processes for high-risk healthcare products to ensure those processes were being properly followed and data was effectively communicated to regulators.
Citing a lack of oversight throughout its network of inpatient pharmacies and distribution centers, the Company found itself in need of an external resourcing solution to support its REMS agreements with FDA. As a condition of product approval, regulators required the Company to gather and report on a number of particular data points to ensure high-risk healthcare products were being administered according to stringent requirements.
Read our free case study and learn:
How The FDA Group conducted multiple audits to support REMS agreements with FDA


How The FDA Group utilized its staff of experienced quality experts to conduct specialized audits with precise consistency across multiple locations


How The FDA Group was able to complete its auditing projects under budget while empowering the Company to uphold components of its REMS agreement given looming deadlines